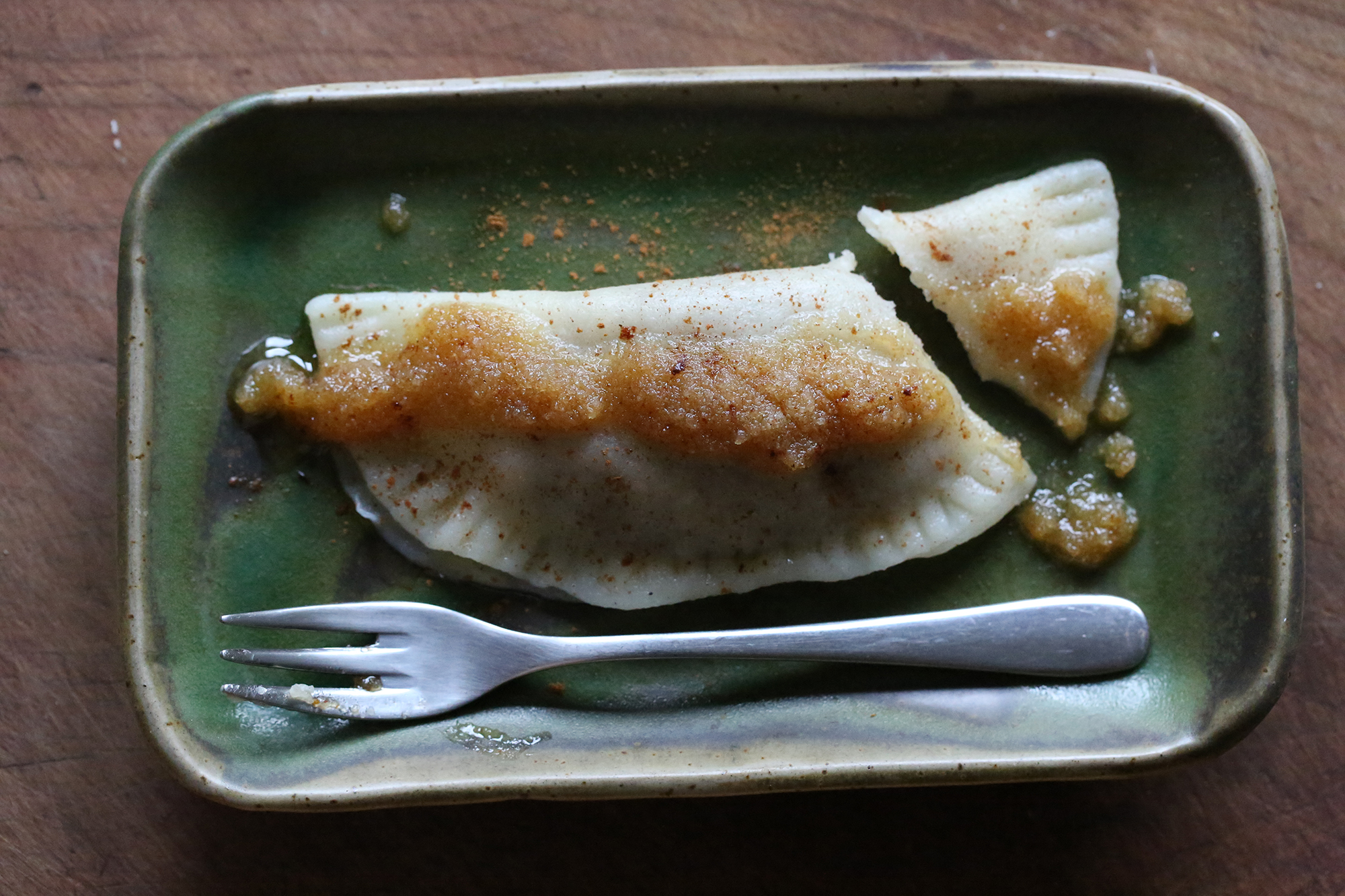 Klemen Košir, 17. 5. 2018
The Trenta Valley and the Bovec Pockets Dessert
Our family spent this year's winter holidays in the Trenta valley. The weather was, typical for the Julian Alps region, unpredictable and fickle. The wind blew snow, then the sun shone for a moment through parting clouds until greyness once again took over the entire Soča valley including the magnificent peaks around it. There was more than enough time for reading about the history of the Bovec area in the warm haven of our rented flat and for socialising with Trenta residents who appreciate company in the lonely winter months.
While hiking to the deserted pasture plateau of Lepoča, I came across a local on a walk, Milan Kravanja. We started talking and come evening I was sitting in his kitchen, holding a notepad and listening to him and his wife Majda describing Trenta life and customs.
Majda comes from a homestead in Lemovje, a village rising above the settlement of Soča, where the lower Trenta valley ends and the influence of nearby Bovec and its customs becomes stronger. All five homesteads in Lemovje have been abandoned since the 1970s. The hard life of remoteness gradually forced their occupants to move into more welcoming areas, but the specific expressions that are not known higher up the Trenta valley still exist. Majda still calls trousers "brgeše" and a coat "monkl". She likes cooking "žrbada", a stew made with sour turnip and potatoes, dressed with cracklings. Corn "žganci" are not called "žganci" like in Trenta or in Slovenia in general, but "puernca".
But life there was not all that different from the one in Trenta so most of the names for objects and notions are the same. They call a meadow "les" and a pile of rocks gathered while cleaning patches of land for mowing "groblje". "Leha" is a small field that is often on a slope and supported by "kašta", a low stone wall in order to make it level with the terrain. Even today there are still visible remains of "ruti", tracts of land acquired by removing trees, typical of self-sufficient farms in hilly countryside.
Due to the remoteness, the Trenta people were left to themselves for everything from food production to health and strongly relied on nature. They were always known for breeding sheep and, even before that, goats. They grazed their animals and curdled milk on pasture plateaus and used cheese and wool as their main currencies, exchanging them for other goods with people from surrounding areas. Bovec cheese has always been appreciated in the Friulan plain. If I remember correctly what I've read in Fedja Klavor's book Kdo dal podobo je Bovškemu (Who shaped the Bovec area), it was first mentioned in the 15th century.
Milan remembers pasture farming from his childhood days. He was fifteen when he herded sheep on the Trebiščina plateau, squeezed below the mighty walls of the mountains of Malo Špičje and Veliko Špičje. Trebiščina was the last active pasture of the Trenta people apart from Zapotok located below the Bavški Grintavec. According to Mr Kravanja, it is where Andrej Hosner of the Kurtln homestead curdled milk. He was there for the two last years of the pasture plateau before it became inactive, just like Berebica and Zajavor before it.
Sheep milk cheese and wool were traded with people from Bohinj and Kranjska Gora. The inhabitants of Trenta had access to Bohinj via the Triglav Lakes and the Komna plateau, whereas they traded with the Carniolan side through the Vršič Pass. Milan recalls how they used to transport wool to Zapuže next to Radovljica, the location of the Sukno textile factory. He also remembers the exchange rate used for trading with people from Kranjska Gora: they gave them ten eggs and received a kilogram of corn flour.
There were no cows in Trenta. During the summer the master of the house was at the pasture plateau and there was neither time nor space for grazing.
During the winter, when the sheep were in the valley, he crafted wooden objects, needed on the farm. He made or repaired "lejtre" or ladders, carved "kuhrenle" or wooden spoons, "žefanglce" or ladles, "snemauvnce" or skimmers used to collect curdled lumps of milk while curdling. Another homemade item was "kembač", a wooden milking bucket with two handles with a hole for fingers. A wooden pestle called "tuc" was used to mash "čompe" as Trenta people call potatoes.
When they chopped down trees they considered the moon. Everyone knew that trees weren't to be cut down during the new moon. At that time the wood contains more water and chopped logs stacked in "tasa" (woodpile) won't dry. Instead, it will become dark in the middle and start rotting.
When the much-anticipated spring came, Trenta people gathered "žentiunca" or dandelions and planted "ledrek" or chicory in their gardens. In general, they were well-versed in wild herbs, which they used to make tea, or soaked in strong liquor, and prepared healing concoctions for themselves and their animals. If somebody was doing really badly, the lady of the house prepared "skutnca", a nourishing soup made by putting mature salty cottage cheese that supposedly contains penicillin, in boiling water.
On Christmas Eve or on name days they liked to treat themselves to "krafi", a dessert they are still known for. A similar desert is called "štruklji" in Kobarid, "krafi" in Rateče and "nudlni" in the Carinthia region. It is a pocket made of thinly rolled dough with a filling of "kludc" or pear, "cvejbe" or raisins, walnuts and sugar. Dough circles are folded in half and sealed to form pockets, cooked in salty boiling water and, at the end, topped with butter and breadcrumbs (or sometimes corn flour).
Majda didn't like krafi as a child because of the hard seeds of the squashed pears, but she explained the basic method of making them. Following our holiday, I made them twice in Ljubljana and used my own quantities of ingredients, as the recipes in Trenta are not detailed. They were passed from generation to generation and weren't written down like in bourgeois households.
The procedure is simple and not as time-consuming as one might think. You just have to make sure to roll the dough thinly enough, so that the filling is more prominent. Once you've mastered how to shape the pockets, you can go wild with the fillings. You can prepare them with minced meat, cottage cheese, prawns, fish, mushrooms ... The possibilities are endless. Roll up your sleeves.
Buški krafi (Bovec pockets)
Ingredients for 20 to 25 pockets
Dough
400 g hard white wheat flour
2.5 dl boiling water
2 tablespoons oil
1 pinch salt
Filling
200 g dried pears
(traditionally common pears are used, including seeds and stems)
100 g raisins
200 g ground walnuts
4 tablespoons sugar
Topping
200 g breadcrumbs
(breadcrumbs can be substituted for cornmeal)
200 g butter
1 teaspoon ground cinnamon
Dough preparation
Weight the flour and place it in a large bowl. Add a bit of salt and two tablespoons of oil. Pour in the boiling water and beat with a wooden spoon. The flour has to mix with the water thoroughly. At first, the dough will be rough. Place it onto a floured work surface. Knead for 5 minutes so that it becomes more supple and homogeneous. Dust the dough with flour, put it in a well-sealed container and place in the refrigerator for one hour or overnight.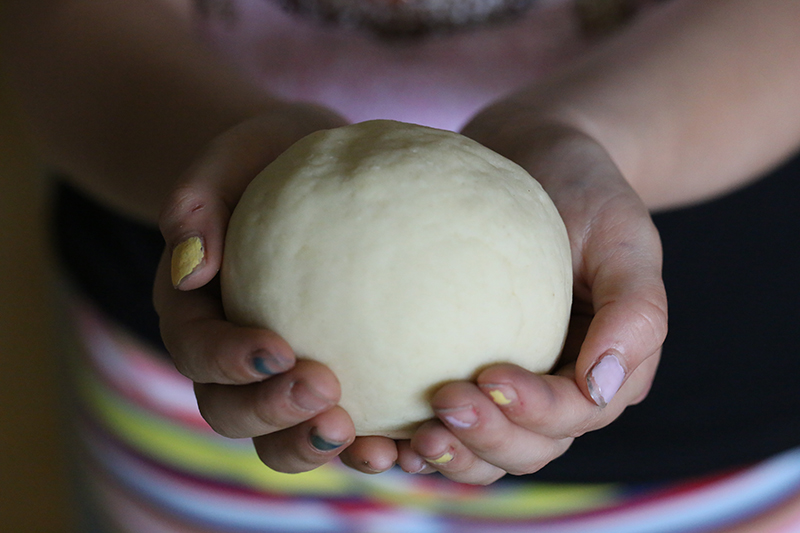 Place the rested dough on a floured work surface and flatten it a bit with your hands. Dust with flour once again and, this time, roll it with a rolling pin. Roll it in all directions, making sure it's an even thickness. According to my estimations, the dough should be about 2 mm thick.
Find a glass (with a diameter of about 8 cm) and cut out circles. Flour each circle and roll it once again until its diameter is about 12 cm and the dough is 1 mm thick. You can make about 20 to 25 circles.
Filling preparation
Put dry pears and raisins in a small pan, add sugar and just enough water to cover the ingredients. Cover with a lid and bring to the boil. Leave it to boil for 5 minutes, then remove the pot from the heat and leave the ingredients covered for 30 minutes, allowing them to absorb the rest of the liquid, become softer and cool down.
Grind the walnuts and blend with cooked fruit until smooth.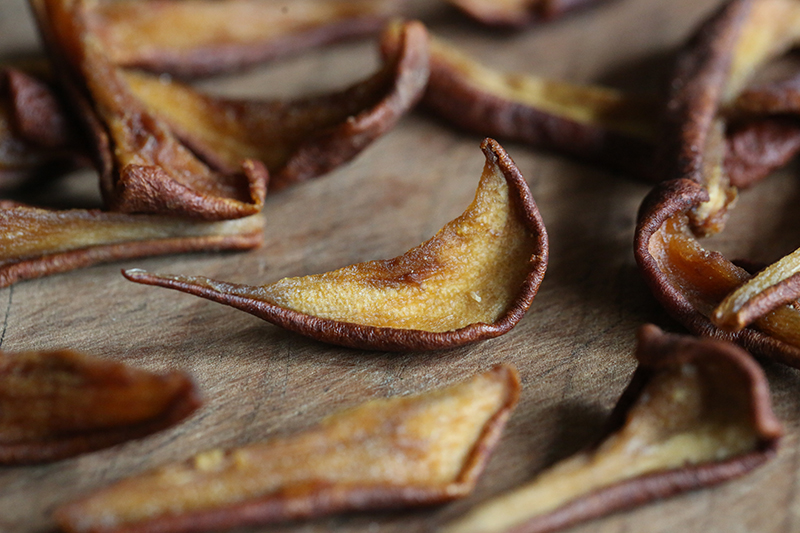 Shaping pockets
Place a spoonful of filling on a rolled-out circle of dough. Fold the circle in half so that the edges meet. Press down on the edges to seal them either with fingers or a fork. I prefer the latter method and use a fork to create a pattern on the dough along the edge and thus close the pocket. The sealed edge created this way is about 2 mm wide.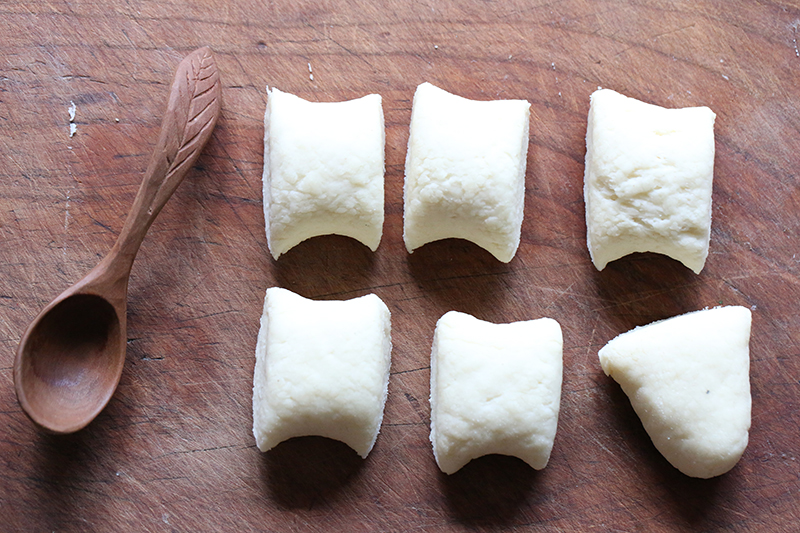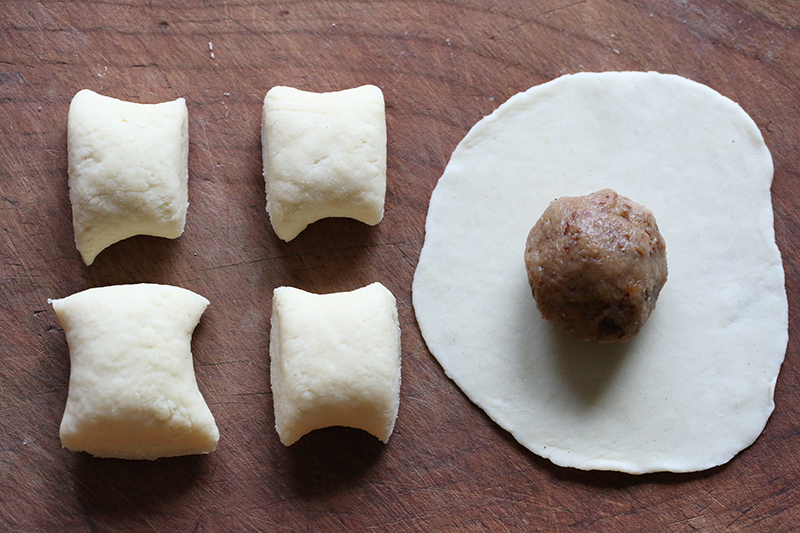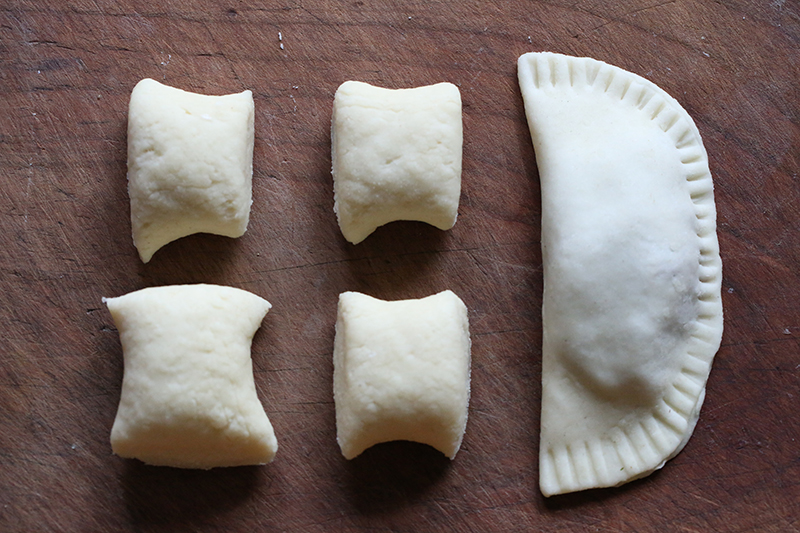 Cooking pockets
Boil water in a big pot. Add salt. Place the pockets into the boiling water carefully, one by one. Boil gently. Shake the pot several times while cooking to prevent the pockets from sticking to each other. It's best to cook the pockets in two or three batches so they're not too crowded in the pot. Cook for 5 to 8 minutes or until they rise to the top.
Remove the pockets from the water with a skimmer and place them on plates. Pour the topping made from breadcrumbs (or cornmeal) toasted in butter over each pocket and sprinkle with ground cinnamon. Serve warm.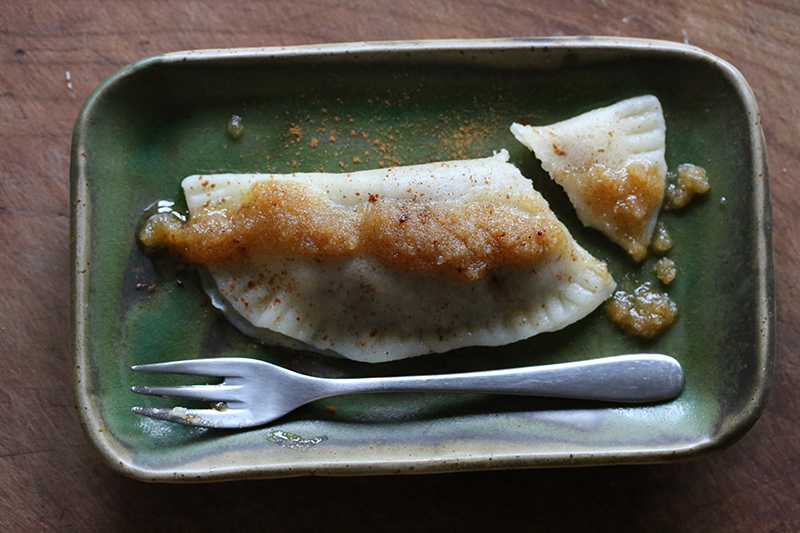 Klemen Košir
I am a star-eyed observer; I watch the world unfold before me and I am amazed at everything I see. The human person is always my main focus, even when I chop up carrots or write down my recipes. I like to talk to people that work with their own hands and with the earths soil itself. At home I crouch down before my computer and type down every impression and every note form the last 5 years and I publish this at the very end in a book for everybody to read. Throughout this whole process I always stay a father, sometimes a little grumpy, other times cheerful and high in spirit.
You may also be interested in: