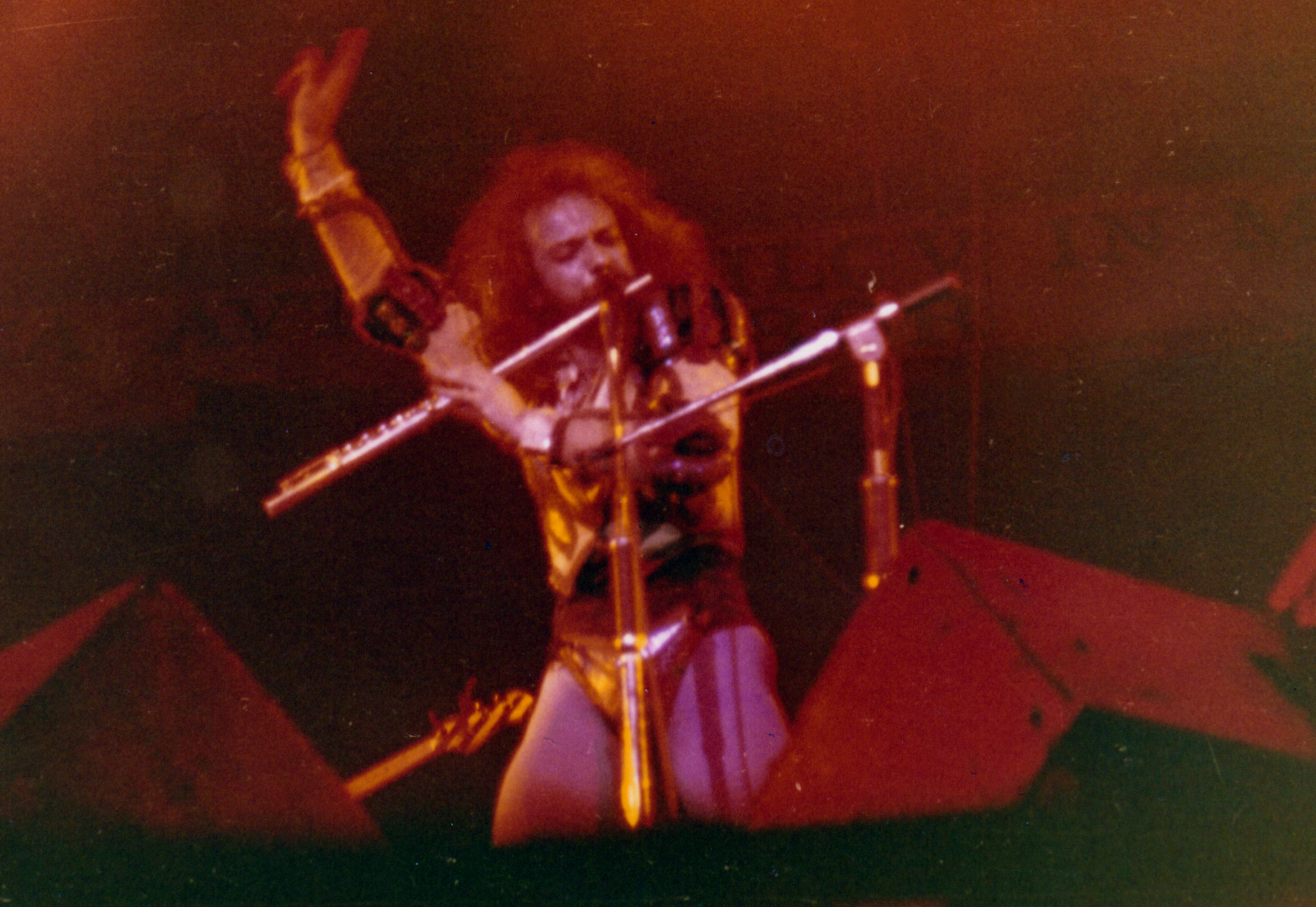 Jani Guna, 12. 5. 2017
Ian Anderson
Tako kot Balaševič Tita, sem jaz trikrat videl flavtističnega enonogostoječega Iana Andersona, tistega olivertwistovskega beraškega piskača, ki je dodobra raztegnil bluesovsko britansko matrico v drugi polovici 60-ih let in ki je umno ujel v svojo flavto še jazzovsko živahnost svojega vzornika Rolanda Kirka. Spomnim se, kako sem v Melody Makerju, Bravu in tudi STOP-u bral o skupini Jethro Tull, ki so že tako razkošni kitarski angleški blues okrasili še s flavtističnimi trilčki in podobnimi piski, pa kako sem prvič videl bogato, skoraj knjižno izdajo debele in slikami opremljene dvojne plošče Living In The Past, ki jo je enega vročega poletja 1972 iz Nemčije prinesla soseda Raušlova Joži za brata Draga. Sline so se seveda cedile, ko smo z Janijem pri Stoku poslušali vse te brilijantne skladbe in si niti misliti nismo upali, da bi Jethro Tull videli kdaj tudi pri nas na kakem koncertu.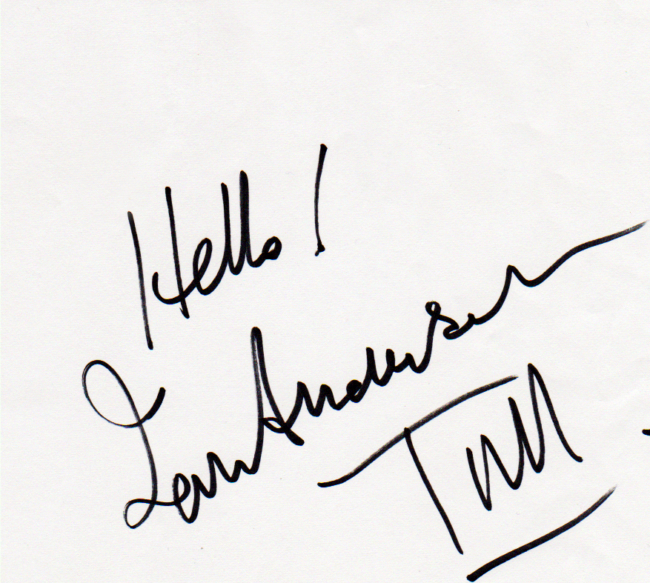 In poglej ga zlomka, v tistih še partijskih časih, ki so nam v 70-tih nasuli presenetljivo zavidljivo bero najkurantnejših ansamblov, so prišli 15.4.1975 v Halo Tivoli baš Jethro Tull. Bili so na čistem vrhu naše mitomanske lestvice želenih herojev pop kulture. Dokler se nisem s svojim ruskim fotoaparatom usidral pod odrom in na razdalji enega metra videl, kako zdaj že v glamurnem jajcpajklu in šik lajbču na eni nogi stoji Ian Anderson in mi brlizga v ksiht, nisem zares verjel, da pred seboj vidim te jeternike. Koncert je bil izjemen, a po koncu se je bil Ian neprevidno zagozdil v avtu pred Halo Tivoli v tisti veliki množici, ki se je z njim vred cijazila dol na cesto. Stoka, Tone, Basek, Sedlo, Fic in ostali iz Zasavja smo ene pol ure hodili vštric ob avtu in trkali na šipo ter Ianu, ki je sedel zadaj z eno lepojko, moleli vstopnice, da bi se nanje podpisal. Nič ga ne bi stalo, zato smo bili šokirani, ker nas ni šmirglal niti pod razno. Njegova ignoranca in prezir sta v nas razvnela socialistično identiteto in smo ga nazivali s kapitalističnim prascem in hinavcem, Sedlo pa je tolkel po šajbi in mu jebal mater.
Drugič sem ga videl 11.5.2000 v Hali Tivoli in takrat se je že videlo, da so Jethro Tull le še njegovo podjetje z zaposlenimi glasbeniki, on pa direktor. Vse je bilo obrtno dostojno.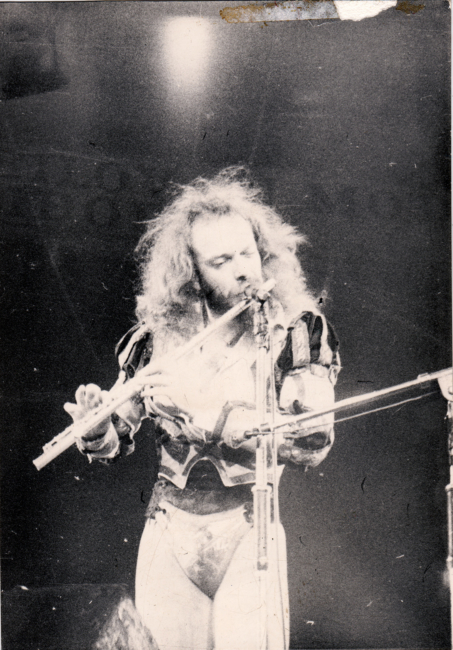 Tretje že bolj bližnje srečanje, pa se je zgodilo 5.3.2004 v mali tiskovni sobi za novinarje v pritličju hotela Lev, kjer sta kakemu ducatu glasbenih urednikov na predvečer koncerta v Cankarjevem domu reklamirala svoj nastop Tinkara Kovač in njen gost Ian Anderson. Mene je tja poslal Radio Trbovlje in imel sem v mislih, da bi se Andersonu opravičil za izpad izpred 29 let. A ko sem po njegovem razgovoru, obnašanju in narcisoidnem duhovičenju ugotovil, da je tip, dasiravno fantastičen flavtist in glasbenik, še vedno en podeželski dekadentni in hkrati svojo konzervativnost skrivajoči škotski nastopaški cinik, ki ne more preboleti, da je ven spustil Woodstock, se mu nisem opravičil. Avtogram sem pa dobil vseeno.

Jani Guna
An old and grey bull, who still gets a bit dizzy when hearing Ticket To Ride, born in the years, when rock & roll was born and when Bill Haley, together with His Comets, climbed on the first place of the Billboard charts with his most famous single, which made huge waves in the movie Blackboard jungle with the younger generations at that time. Aquarius as zodiac, who had luck to fall in love at the right time with my famous oracle named The Beatles and enjoyed the flower-power movement, which I listened to on the radio station Radio Luxemburg on a small transistor, and who heard the Chameleons for the first time on a jukebox, not to mention all of the corresponding giants between Liverpool and San Francisco, with a short stop in Trbovlje (Amebe, Eden's, Jutro, Črni bliski, Kon-Tiki). I could enjoy all of the pure vibrations of the crowds, good ones, and also other ones, like when they killed Lennon for instance, when they walked Tito to his last resting place, and after those events, changed my country and went into a new millennium along with it.
You may also be interested in: