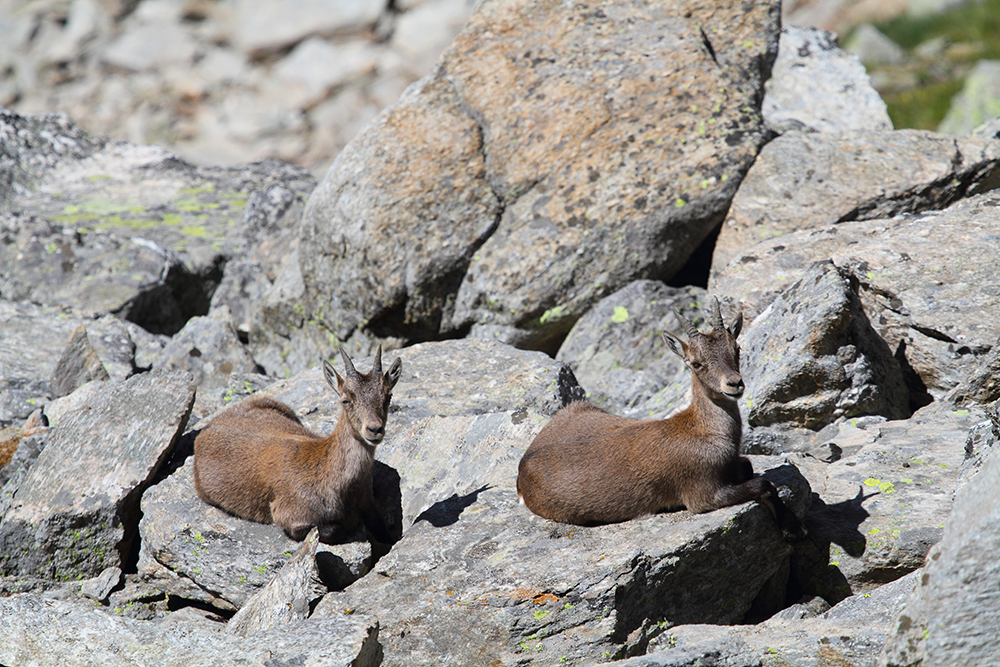 dr. Petra Draškovič Pelc, 7. 9. 2018
Gran Paradiso—the great paradise among ibex and marmots
Literally. We found ourselves in the middle of those mighty mountains completely unexpectedly. We were considering going on holiday the last week of July and the first week of August (a few years back, though) and due to forecasts of heavy rain we changed the initially planned direction towards the Dolomites at the last minute, basically right before leaving home, and decided to go "a bit" further, to Gran Paradiso. We knew that the park was wonderful, the many photos we'd seen of it had been encouraging us to visit it for a long time, and so the decision wasn't even that surprising.
 
The goal wasn't as much mountaineering in the sense of conquering the highest peaks, but more of the "wandering and photographing" sort as I like to say: with plenty of walking around hills and valleys and a good amount of taking photos and of course intensely experiencing the beautiful nature.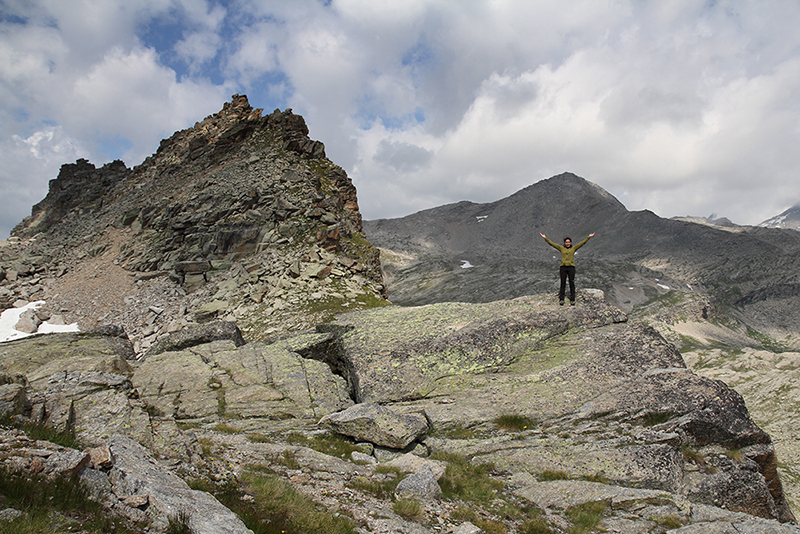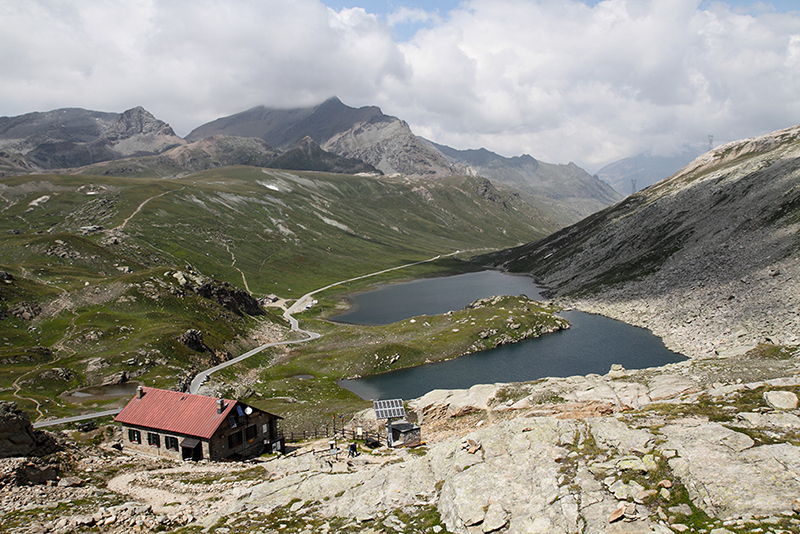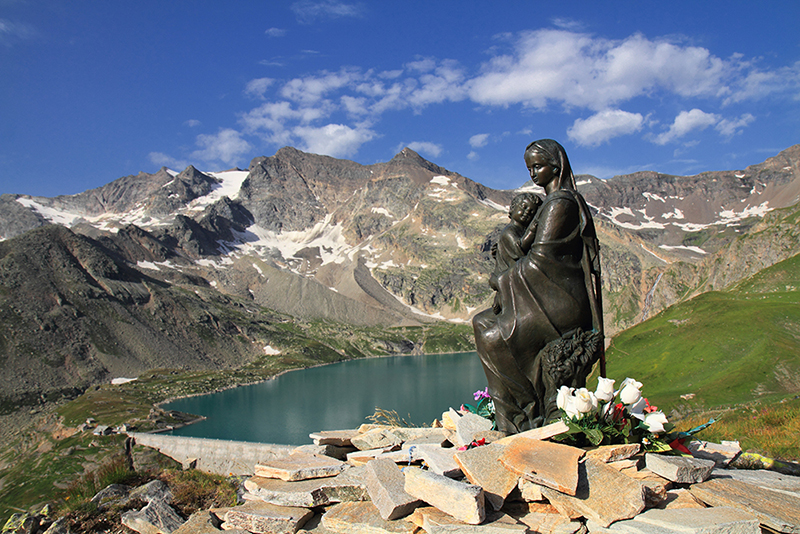 And we had all of the above in abundance. We set up our tent in the camp and then discovered hairpin bends, first by car that occasionally made some puffing noises, and then on foot. The mighty summits reigned over by ibex were inviting. The Gran Paradiso National Park is not known only for its mighty peak of the same name reaching 4061 metres but also for ibex. Gran Paradiso is also where the ibex living in our Julian Alps originate; they were brought to the valley of Zadnjica after 1965. Sharp verticals, patches of colourful soft pillows of mountain flowers and herbs. Somewhere in between, the wind brings along the calls of eagles, marmots and ibex.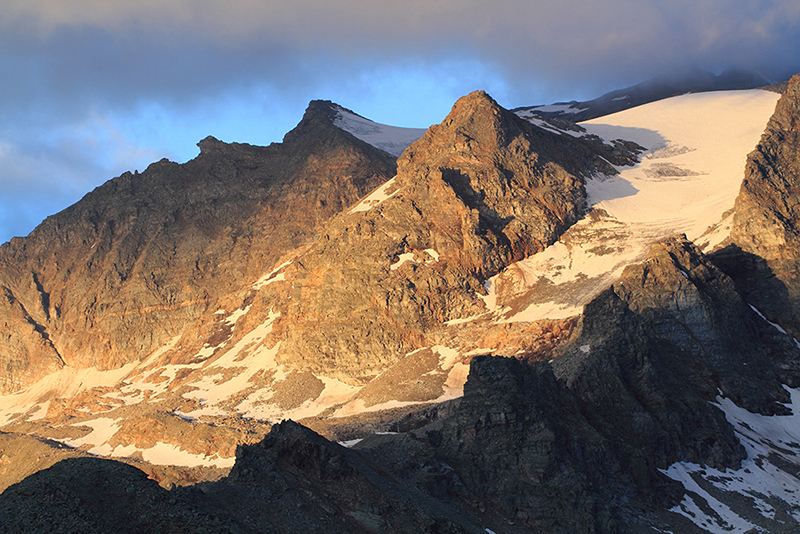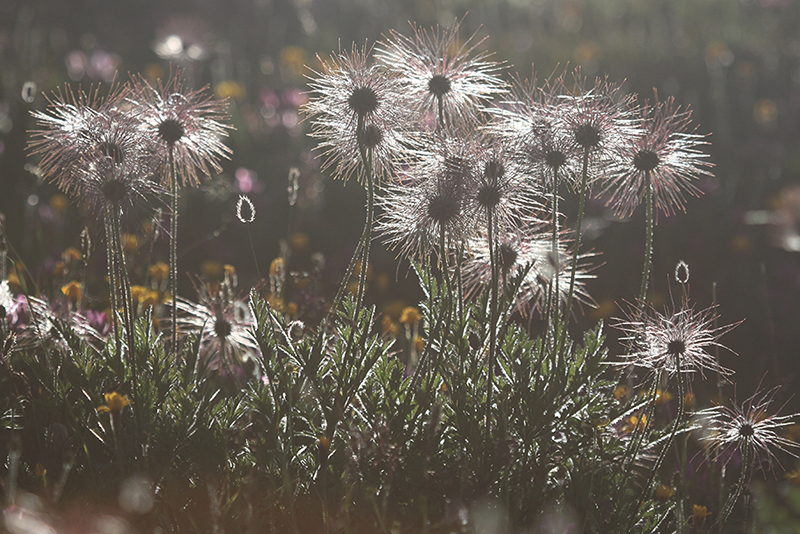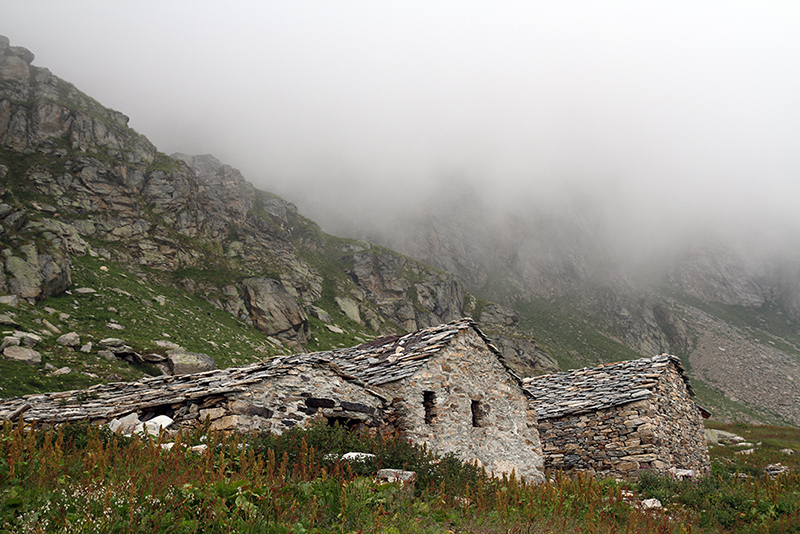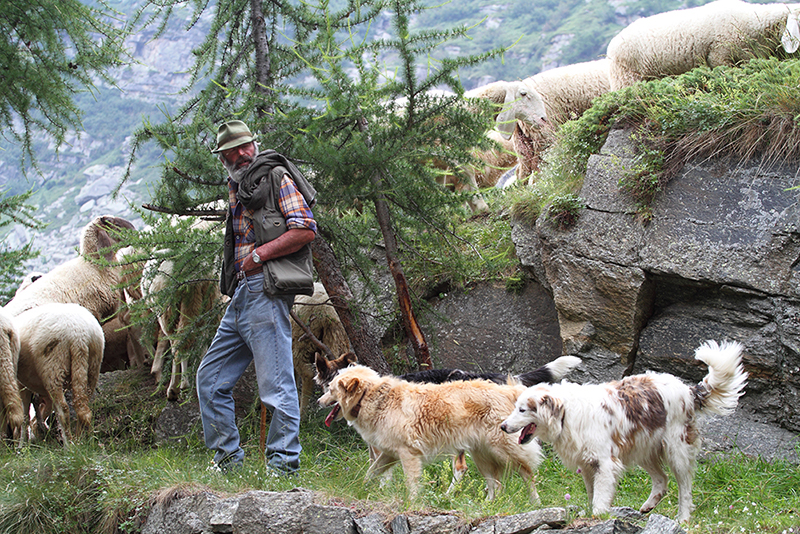 "It really is paradise-like," Stane and I quietly exclaimed to ourselves and out loud. You know how it is, sharing a pleasant experience with our loved ones multiplies it at least a thousand fold. This was also true in this case. Invisible threads were weaving together earthly reality and imaginary world … Indeed, the mountains are precisely that holy place where time and time again legends are born about gods and heroes, mythical creatures, and along with them those about the creation and the end of the world. They emerge from unspoiled nature, inaccessibility or difficult access to this wild world and from the awe of humans who use their imagination to depict this special bond and feelings using the language of various arts too.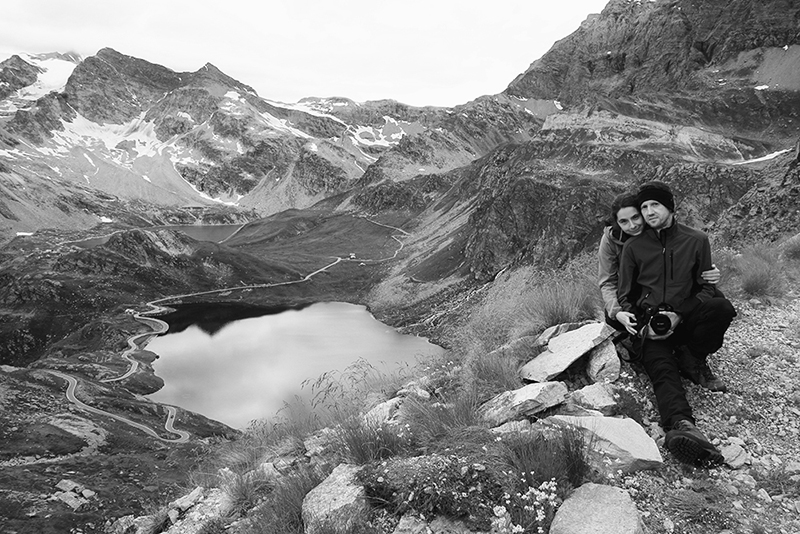 A thought by Roland Dellagiacoma comes to mind: "High mountains always reminded me that high above them or deep inside of them, above the highest peak and under the lowest chasm, anywhere and everywhere, lies a big secret: the limit of what is allowed, the limit of our capabilities and the limit of the last realization."

My heart nods. How could it not, next to this magnificent kingdom of the mountain world.

We did have some luck with ibex, but the big ones prefer staying higher up during the summer, whereas another type of sound can be heard much beyond the tree line but in the grassier areas of the park. You're on the lookout for them and then you see, appearing from out of the grass in front of you, a furry head curiously observing the surroundings of its burrow. No, these aren't bears, even though they too like sleeping through the winter. Of course, we're talking about marmots. However, these ones are not wrapping Milka chocolate.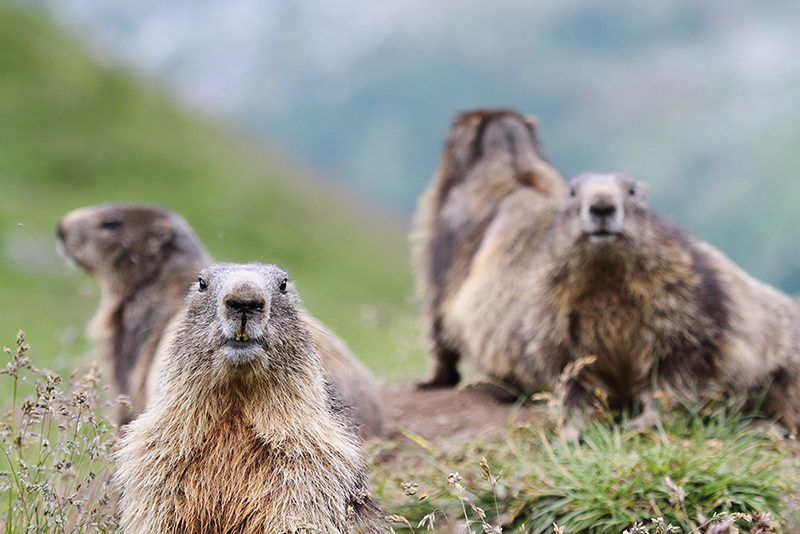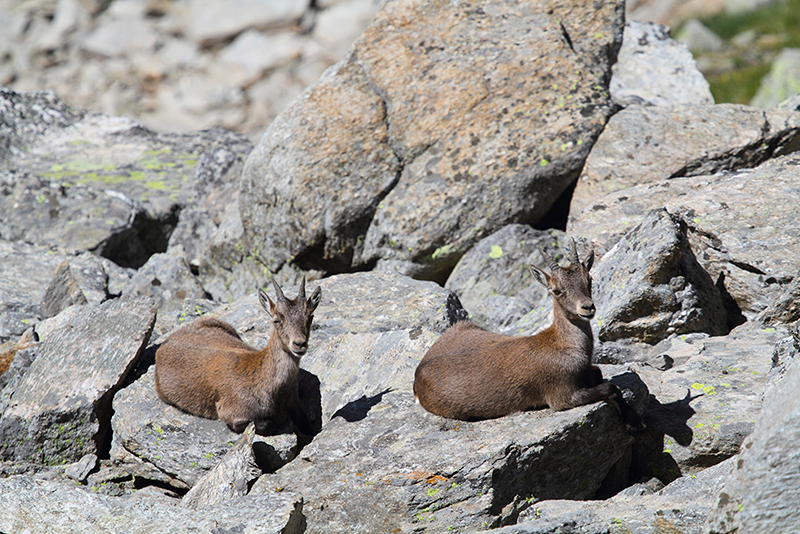 Sometimes they casually rest in front of their burrows, but in reality they are alert and notice every little rustle near or far. And when they sense danger, they immediately stand up on hind legs, raise their head high up in the air and warn their entire nearby community with shrill whistles. Soon after, others do the same and hide inside their burrows until the danger passes.

We zigzagged among marmots, mountains, waterfalls, peaks and ibex for a bit more than a fortnight. Not long enough to see all the views and do all the walking, but the impressions are strong enough and so we're already picking dates for returning in autumn. Perhaps we should take a peek from the French side as well, climb to reach other views or refresh ourselves by looking at lovely lakes, but also feel the vibe of the mountain wilderness during a slightly less touristy season. Until next time.

dr. Petra Draškovič Pelc
Born in the Slovene Štajerska, she chose to live in Kočevje and the mere thought of adventures in the wild nature of Alaska gets her heart racing like a wild animal. She enjoys silence, peace and the beauty of the light-flooded wilds of all the untouched corners of the world, as well as the beauty of her local Kočevje-area and Slovenia. She is an enthusiastic traveler, a curious admirer of nature, a tourist guide, author of countless articles in Slovenia as well as abroad and a doctor in biomedical science, who found her calling in (natural scientific) photography. Throughout her work with ARS NATURAE she tries to express love towards nature and its preservation.
You may also be interested in: