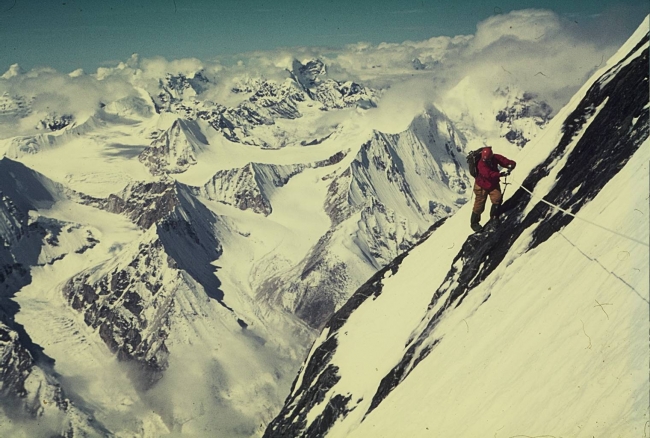 Viki Grošelj, 11. 11. 2016
What brings me to climb the highest mountains and travel to the remotest places of our planet?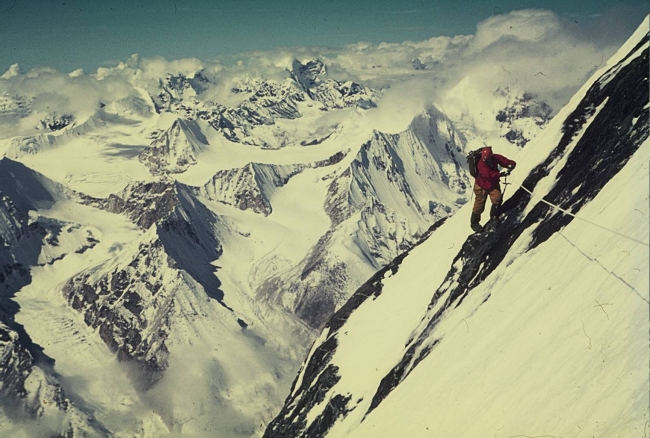 This is the question, which visitors of my lectures and presentations, ask me every time. At first my motivation was curiosity, curiosity about how it is up there and mostly what is hiding behind those peaks, but quite soon a deep wish about learning how far my skills reach and where their limit lies also followed. If I think further about other instances, that brought me to mountain climbing, I begin to remember my first Himalayan expedition in 1975. Back then I was the youngest member of the 6th Yugoslav expedition team, which had the goal to climb the 8463m high South wall of Makalu. To be even on the list of the chosen team members was a huge honour for me and a unmeasurable joy too. I thought I was walking on air at that time. About if I even succeed to climb up the mountain, I didn't even think about. I was just worried that I would live up to the expectations of my team leader Aleš Kunaver, which chose me as a part of the expedition.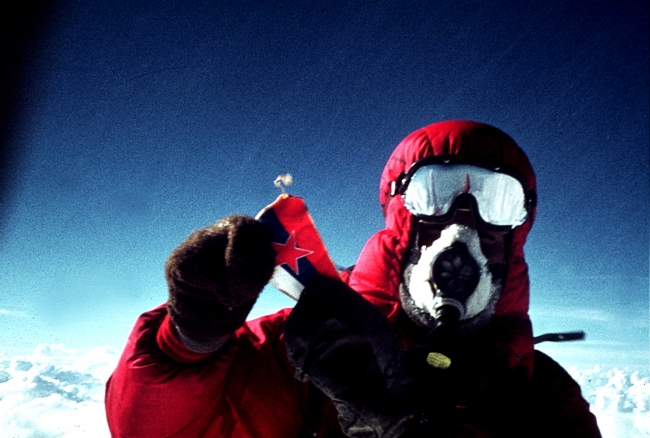 It was the first time I traveled to another continent and when I first stepped out of the airplane and walked through the crowded and huge airport of India, my beliefs and my world views were completely shaken. We walked to the Nepal border, hired a few luggage carriers and we began our 18-day long journey. The tea sold in the teahouses were so cheap, we felt like wealthy men even with our Yugoslavian standards. We walked through a jungle full of bananas, bathed in the wild, travelled through storming rivers, slept amongst millions of leeches and even surpassed the heaviest of monsoon rain, till we made our way through the Barun valley, which lead us to the steep mountain, which we had to climb. At about 5000m we decided to set base in a foggy afternoon and almost broke our necks at the afternoon, when we wanted to take a look all the way up to the mountain top. A breathtaking view, which touches even the most hardened soul. An unforgettable walk beneath the highest mountain tops and a unique experience of the world as I knew it till then. These forever linked be to the Himalayas and their people. We set out to climb the steep wall and my first attempts were very clumsy. My heart raced, blood poured out of my nose, my tooth hurt so much, but I didn't quit. With some time I got used to the height and felt a bit better. One and a half meters of snow, which was blown to our camp base, tore over some of our tents and brought us to the edge of despair, but we overcome the hurdles and that made us even more determined. Between the 6. and the 11. October, 7 of us made it to the very top, which was thanks to everybody's combined efforts of out 21-man team. The first time I was in the Himalayas, the first Slovene to cross the 8000m hurdle and managed to make first ascent on the south face of the mountain. Makalu became my ticket to a new world. It was the very first lesion about getting to know the vastness of nature and getting to know myself better, to know I could achieve so much more, so much more than I could have ever imagined from the safe and cozy warmth of my home. And also the knowledge, that despite this, we are still meaningless and unimportant when you compare us to the forces, that surround us all.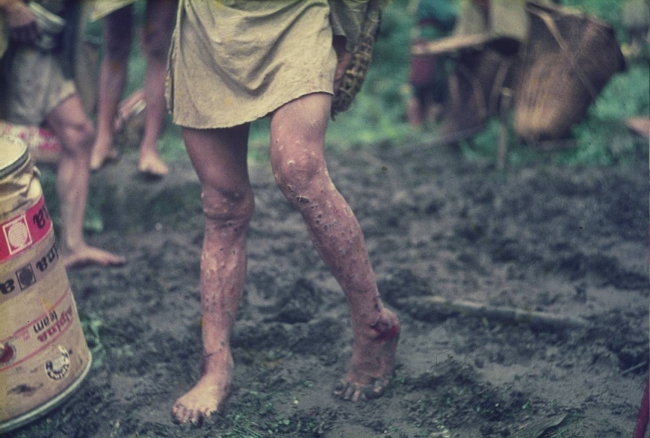 Mountain climbing became, with time, my way of life. It became a life lesion, which I can only learn by exposing myself to it. It is the nearest feeling of total freedom and teaches about responsibility at the same time. It teaches me to be persistent, devoted and focused on my goal. It teaches comradery, patience and compassion. It shows us to search for our boundaries of our capability. Mountain climbing encourages me to get better every time. Not only as a climber, but mostly as a human being. Viki Grošelj

Viki Grošelj
Born 3.6.1952. Sports educator by trade, with 40 years of working in primary schools, but also a top mountain climber, Himalayan, mountain rescuer and mountain guide.
Besides countless expeditions to Slovenian and foreign mountains, I also took part on more than 30 expeditions to non-European mountain passes. In the Himalayas, I conquered 11 ascends to 10 out of the 14. mountain tops, ranging over 8000m.
You may also be interested in: