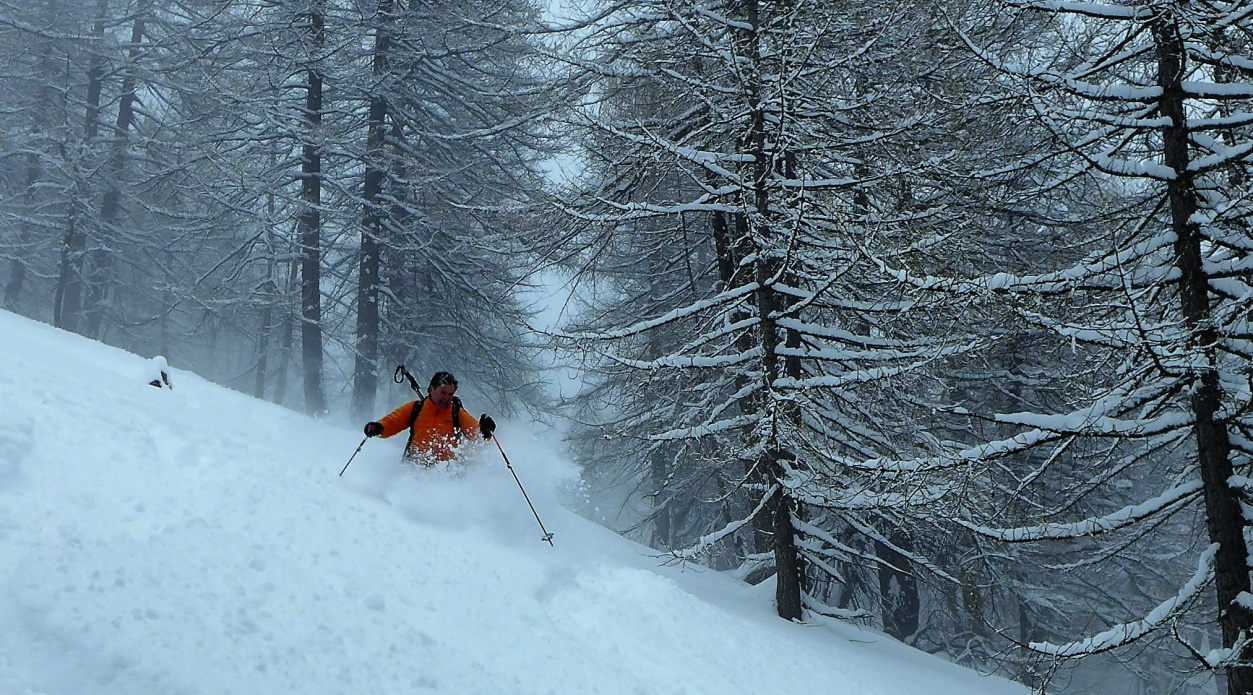 Tomaž Jakofčič, 21. 4. 2017
New places (Skiing in February)
My knee is still wobbly, but ski touring was on my schedule, and not only a day or 2, but 4 weeks without interruption. Of course, I would be happier any time than this year about it, because I was still a bit in doubt because of my knees and if I would even make it. And I bet it all on a sophisticated knee brace. I should go guide some groups to Tirol and to the Dolomites, but what, if there is not enough snow to do that there. I don't like to call of my skiing tours, so that is why I had to find a place, where my clients weren't before and where there would be enough snow to do great off-piste skiing. A few moments of thinking and I had luck. The escape to the Italian South Alps and the French Queyras would be ideal to do the job. In the consecutive 3 weeks in February I got the most ski touring in the equal amount of time spent walking. In Piemonte the weather wasn't that good, there was much snow falling, but the beautiful and rare larch woods made the tour go smoothly and provided breathtaking moments of skiing even in bad weather conditions, where skiing was like racing down a slope where you could only see white in front of you and nothing else. The ski touring professionals even told us that it is even better, if the weather is bad! And if I add the good known Italian food and hospitality, we were close to the ideal ski touring place.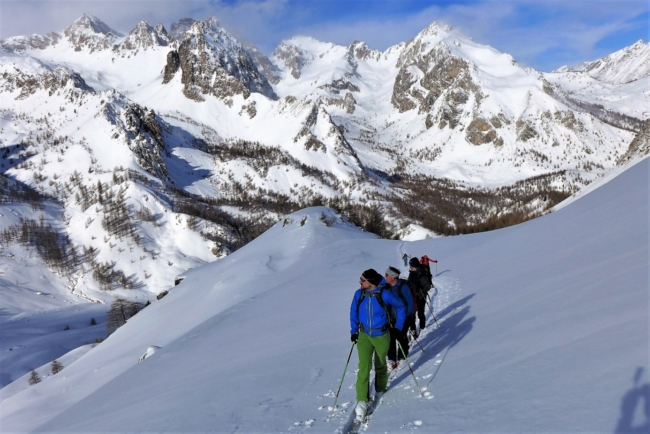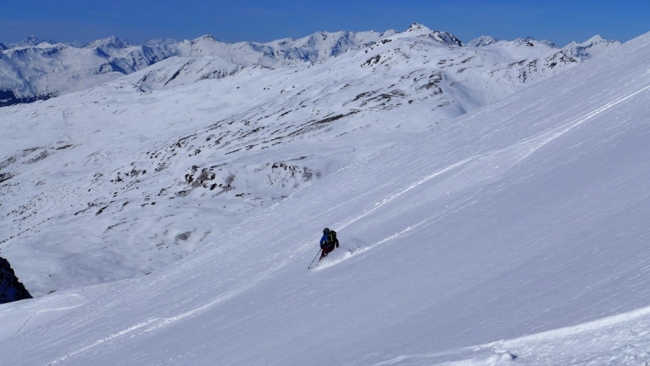 The French national park Queyras is one of the oldest national parks in France and is also one of the less inhabited places of them all. Jokingly, some call it the French Wild West. I used to ski there in the previous year, even with a group, skiing towards the dry Dolomites. I didn't have much time to study, but I made my decision quick, there was not much snow and all of the experience left me with mixed feelings. But I gave Queyrasu another chance to prove me wrong and this year it showed itself in its true beauty, like a stunning ski touring paradise, completely lying in the slope of the Swiss Andermatt. The endless possibilities and with ideal mountains for skiing. The ski touring and mountain guides are so cheeky, because the best skiing experiences can't be found in any Queyras tourist guides whatsoever. You can only find them when chatting with the local people there. In this time, where ski touring is the fastest (and the only) growing ski discipline and many people turn their backs on ski slopes and go into the wild, this kind of silence is necessary, if they want to keep this kind of peaceful place to themselves.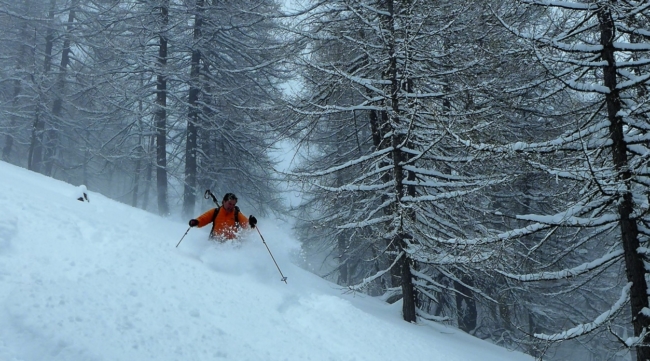 Although I was tired of the previous weeks of guiding, I was still looking forward to ski in my known Slovene mountains. The snow is mostly under normal quantities, so we had to use other methods. Good old pure snow can therefore only be found in the lonely Western Julian Alps. At the end of the week, a bit of fresh snow did fall, but the crowd and mass of people on the good known ski touring tours was just too much.
The ascend on Triglav, before it started to get worse, was just amazing; for me, who usually avoids Triglav in the summer and also didn't climb it in the winter for some years now, it was so euphoric. I was alone with a female client, alone on the top of the mountain, enjoying the beautiful weather and view.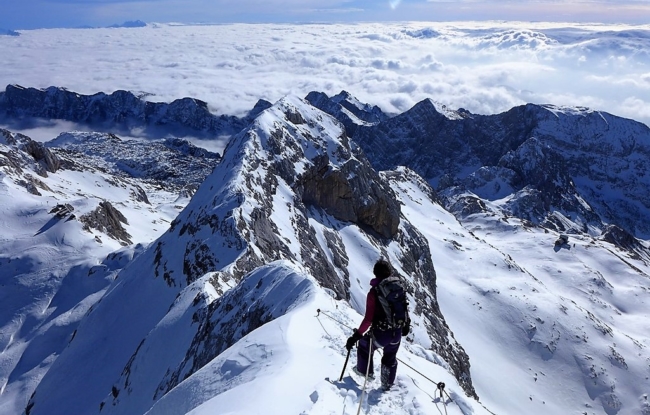 When I walked on the viewing ridge between the small and big Triglav top, I remembered some remarks a Polish guide made, when I met him in Patagonia years before: "What did you Slovenes do to Triglav….!?" I also categorize Triglav into the ecological crimes of this world. As far as I know, in no other country in the world, at least in the civilized parts, have they deformed their highest mountain to the extent the Slovenes did. A mountain, with which Slovenes boast around, worship and carry in the national coat-of-arms and even sing about in songs! We have blown up our highest top and burned away the highest ridge, caved steps in its snowy flesh and thrown on tons upon tons of steel to deform its surface.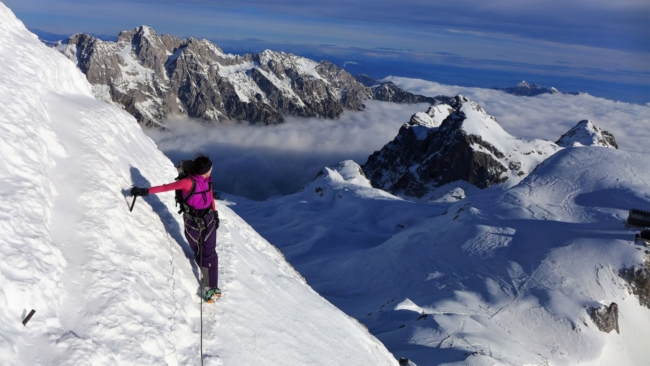 A flood of secured climbing paths – known at "ferrata", not the thing that usually grows on Alps. The ferrata cliffs are equipped and nobody would even look at them in a normal situation. They do serve as a pleasant tourist add-on, but the philosophy of such paths, for me as an alpine climber, is totally unknown and not understandable.
Last year I spent a bad weather day on the ferrata on the cliff Gonžarjeva peč and I was surprised. The wire rope is fastened through smooth surfaces a few meters away of a natural passage through walls. On the surfaces there is no foot support, and the recipe simple; you crawl on wire ropes and scrap along with your shoes on the smooth surface. If they added pegs onto the surface their evaluation would drop, because it would undoubtedly be better for the guides, who would boast with evaluations such as D/E and that probably wouldn't be right. And what is the next logical step moving on from the ferrata in Gonžarjeva peč? What is a ferrata with an evaluation of Ž? A simple wire rope, hanging from the Črni Kal viaduct.
Oh how pretty!
To not end my writing in a whining mood, I have to write something about the book that I read a while back. A small, simple booklet, which translation was issued from the Mohorjeva družba and you can't find in every Slovene library. It is the work of the known Italian Alpinist Nives Meroi and is titled "Ne pustim te čakati" (I don't leave you waiting). The book talks about her and about her husband Roman Benet, a neighboring country Slovene, whit whom she lived 500m from the Slovene-Italian boarder, a Slovene, who climbed the biggest 8000m mountains till now, a whopping 13 of them, and as it looks, he is going to climb all of the mountains over 8000m in the world. But the text is not a praise to his climbing superlatives, but it is a book about modestly, love, the will to live and the strength of this kind of will. A heavy illness, which starts in Kangchenjunga, treatment and recovery, a successful ascend, more very bad health issues and after all this, another ascend on the mighty Makala. An unbelievable story written very simple: you just have to take it in your hands and read it the next time you suffer from a cold, a twisted knee or something other, laying on the couch and feeling sorry for yourself!

Tomaž Jakofčič
I was born 1970 in Germany to parents, which were "Gastarbeiter". There I also spent my first 5 years, after that we returned to Ljubljana, where I still live with my family till this day. My parents were never really into mountain climbing, and I really can't explain where I got my strong wish for "conquering the useless parts of the world". Till the end of middle school it wasn't so bad, because I wouldn't live out my obsession to the fullest yet. I was constantly daydreaming and this was also the reason I had worse grades, than I could have had, but I managed. I also briefly visited university, if I let out the fact that I got my diploma with almost gray hair. After a few years of teaching in primary school, I finally managed to gather my courage and cut the cord, which bind me to my regular job and I became a "full time climber" and mountain guide.
You may also be interested in: