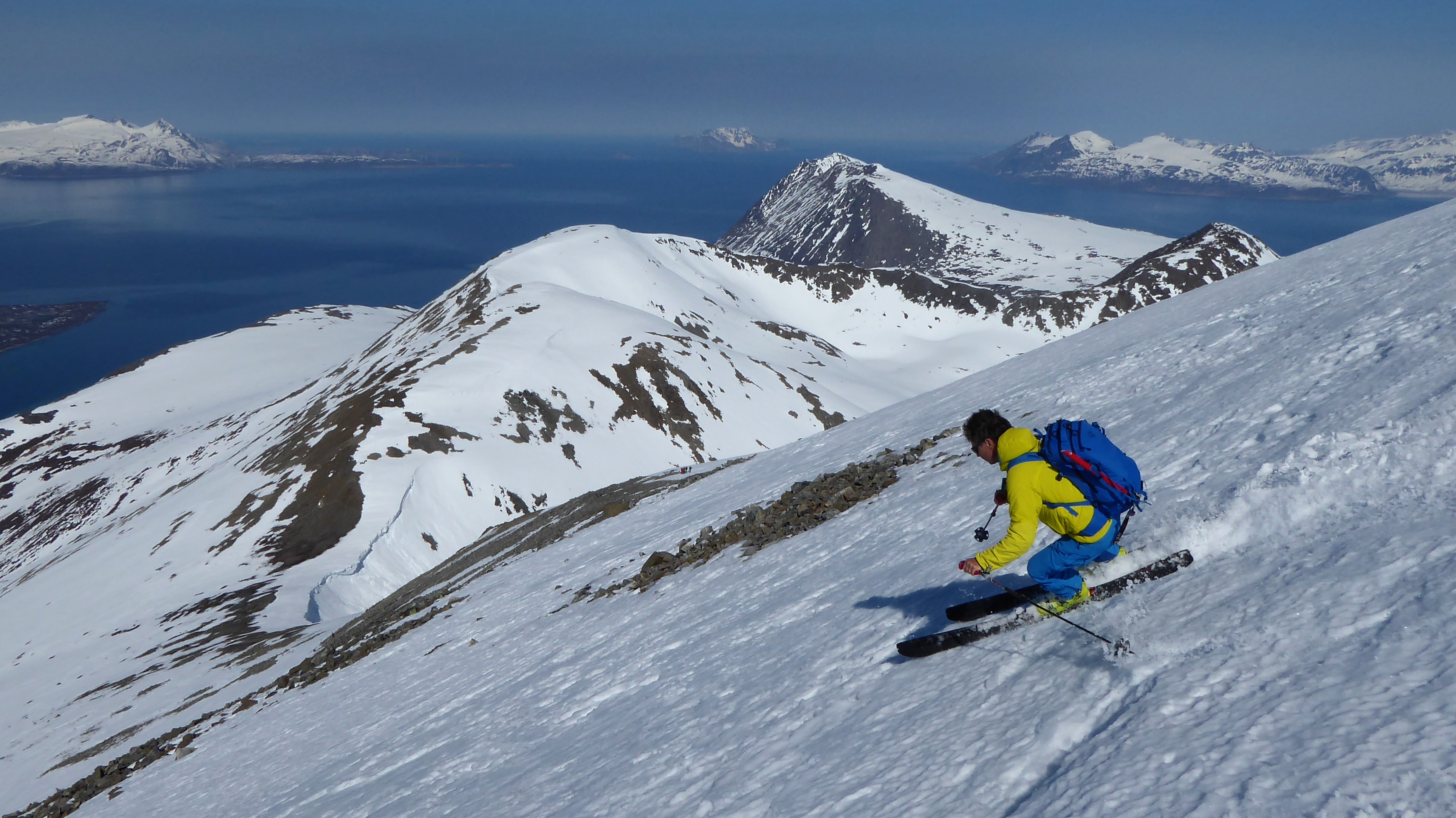 Tomaž Jakofčič, 3. 8. 2018
Spring memories
I don't know why I love dreaming about things that are not relevant at the moment. In the summer, I dream of winter, when I ski I'm thinking about climbing, when I'm freezing in iced waterfalls I'm thinking about a warm rock. And so, I'm now gladly looking back on last spring and endless ski touring. More than a hundred days on touring skis is a nice number. I once again travelled the European Alps, which usually ends with skiing in Mont Blanc. But it so happened that I was done with it as early as the end of April and a bit differently. I was skiing in the Bernese Alps with a group of Americans. Six days and six about-4000-metre peaks provided us with plenty of good skiing in the area of the 24-kilometre-long Aletsch Glacier, the largest glacier in the Alps. Four smaller glaciers converge to form Aletsch at the so-called Concordia Place and the ice there is still about 900 metres thick. Because we were well acclimatised, two participants wanted more—to ski from the highest mountain of the Alps, Mont Blanc. But the weather was bad exactly on the day we intended to ascend the peak. After considering plans B, C and D, we decided to make use of the last day and reach the area high below the peak of Mont Blanc with a helicopter from Courmayeur and walk just the last part, along the Bosses ridge. This perverse option was for some time discussed rather quietly in Chamonix because this type of activity is forbidden in France. But flying in from Italy and landing on the Italian side of the ridge is completely legal.
Heliskiing has been forbidden in France since 1985. It was popular until then and they say that there were real moguls on the northern slope of the Dôme du Goûter (shoulder of Mont Blanc) in spring. In 1980, the then French president Giscard was spending his holidays in Chamonix. Among other things, he skied from the top of Mont Blanc with a guide. On his arrival in Chamonix, there was a crowd of protesters waiting for him and demanding a ban on the use of helicopters for tourism purposes. They caught him unprepared and he promised he would push for this. He initiated a procedure that was finished in 1985 by François Mitterrand. Unlike in Switzerland and Italy, heliskiing is thus forbidden in France. And rightly so; the use of helicopters to transport skiers should disappear from the entire Alps. Imagine how touring skiers feel, walking and skiing on the famous Haute Route for a week. The last descent from the Valpelline saddle should be the highlight, the real climax of the ski touring experience. But the last helicopters have just flown away as the sweaty touring skiers remove the climbing skins and ski down the more or less always ski-worn glacier of Stockji. A similar example is the Ebnefluh in the Bernese Alps and many other places. A helicopter should be used this way only in the wilderness of Alaska, Canada or Kamchatka, where there is no clash of interests with touring skiers.
Anyhow, this time I buckled despite my convictions. Clients' wishes still come first. J Well, and it was also very nice! Instead of getting up brutally early at 1 a.m. at the Grands Mulets Hut, we ate warm croissants in Chamonix at a normal hour and were nonetheless a couple of hundred metres below the Dôme du Goûter peak (4304 m) at 8 a.m. On the Italian side, of course. We flew there from Courmayeur in a bit more than 5 minutes. We jumped out, put on crampons and reached the top in about three hours by ascending the icy Bosses ridge. The feeling of a fast ascent was unusual. My clients were strong and fast in comparison to the usual long ascent by foot from the valley in either direction. Because of that, the skiing was also better. For our rested legs, just a few centimetres of fresh snow on the hard foundation of the steep northern slope were enough to enjoy the long descent of the whole 2800 metres of altitude to Plan de l'Aiguille. A wholesome day!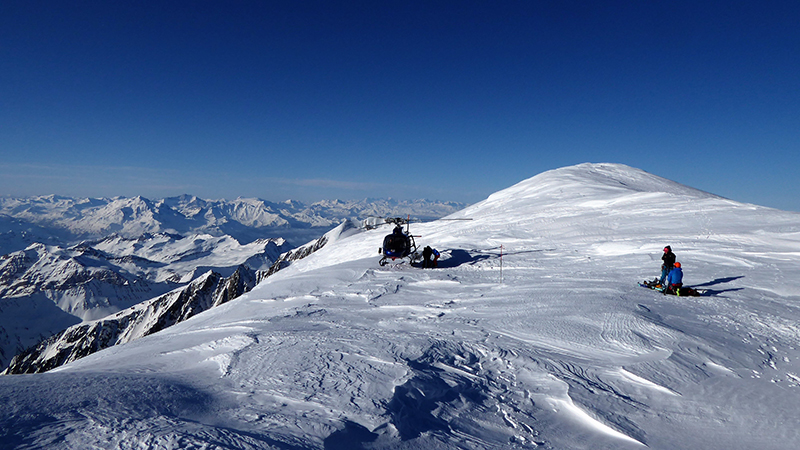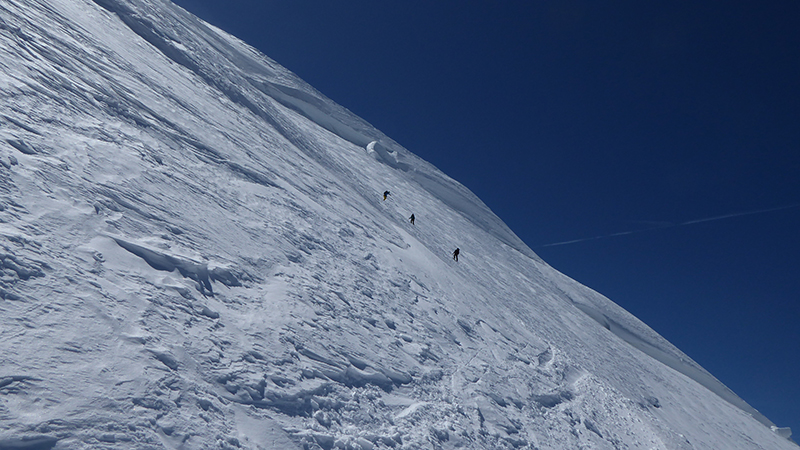 To end the skiing season, six fellow passengers and I travelled to Norway, to the very north of the big country, the Lyngen peninsula, where the Alps with the same name spread out. The peaks are lower than their European counterparts; the highest peak of Jiehkkevárri is only 1833 metres above sea level, but the mountains rise out of the sea surface itself. In the last decade, the area has become one of the most popular ski touring destinations in the world. Once you're there, it's not hard to see why: wonderful slopes ending in the Arctic Ocean, excellent snow statistics and ski touring with big altitude differences. The downside are the high prices. The food in restaurants and hotel accommodation are devilishly expensive for our standards. But we found a way around this without too much trouble. We rented a big holiday home just a few tens of metres away from the sea. The price was incomparably lower than that of an average hotel. A solution for food can also be found. In shops, the prices are much less striking. There were a few excellent cooks in our group and they showed off with real gourmet masterpieces. I usually never gain weight during my ski touring trips; the long steady walks and lower temperatures enable me to carelessly enjoy food. This time the result was different and I'm still striving to get back to my ideal climbing weight.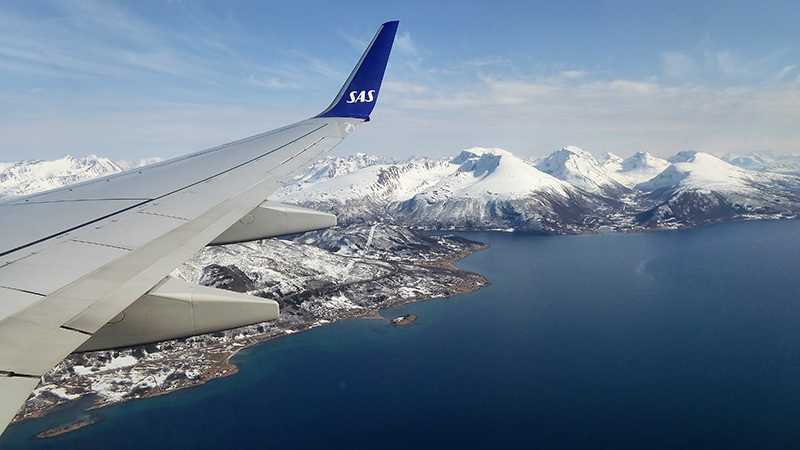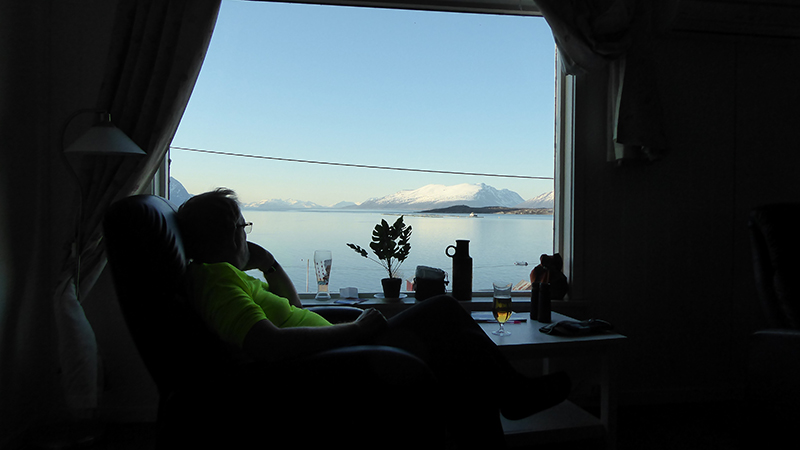 The drinks were a bigger problem. The Norwegians have a very strict alcohol policy. Alcohol, wine and spirits (beer is obviously not considered alcohol as it is available in supermarkets) can only be bought in special stores with opening hours that are shorter than an average Slovenian drinker would want, even though the largest town in Lyngen boasts the northernmost distillery in the world, Aurora Spirits.
A ski tour starting on a sandy beach? Wonderful! We rented cars and drove to the starting point of our ski tours along the Arctic coast every day. Sometimes we also used a ferry. It's peculiar yet pleasant to stand on a windy deck in your skiing equipment. During our trip, we had some bad luck with temperatures, which were unusually high and forced us to get up early. This was easier than in Slovenia, as it was dark only for a few hours. At 4 a.m. the sun was already shining brightly. Despite all this, there was still enough snow and we usually skied to just a few metres away from our cars that were sometimes actually parked on the beach. The views from the peaks were incredible. Dark blue sea and countless white islands protruding from it. The view made us reluctant to descend from the top even though we were looking forward to nice skiing. But you have to get down so that you can climb another peak the next day. Maybe even a more beautiful one!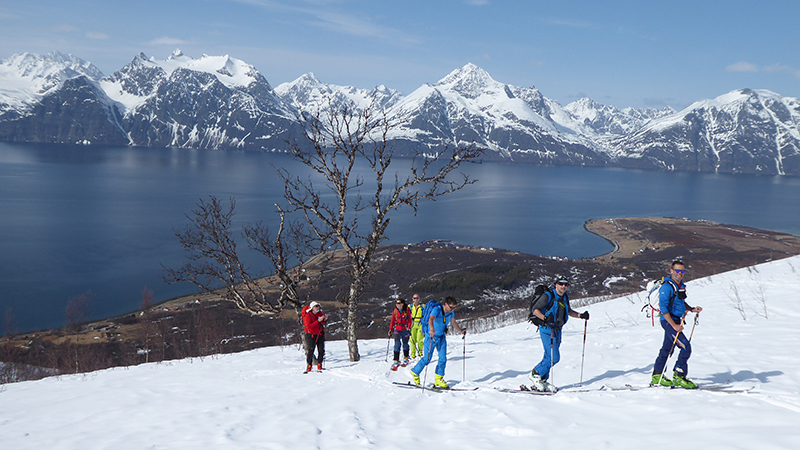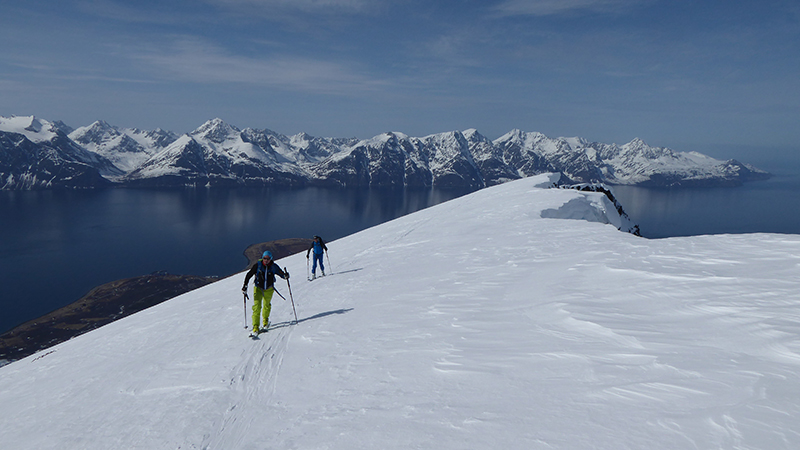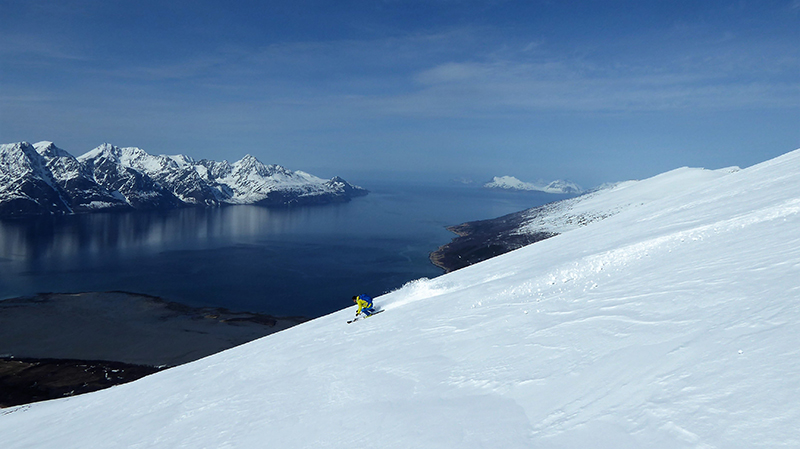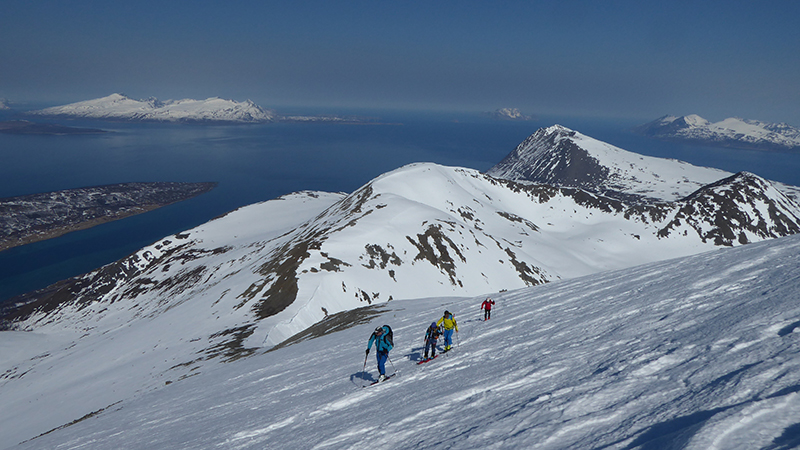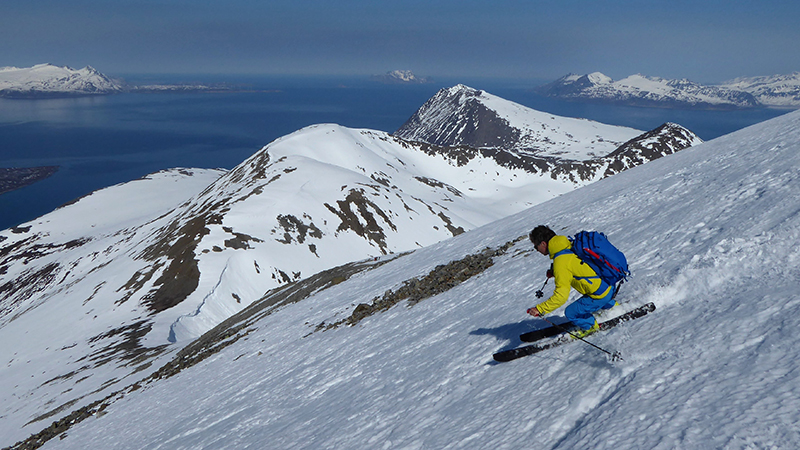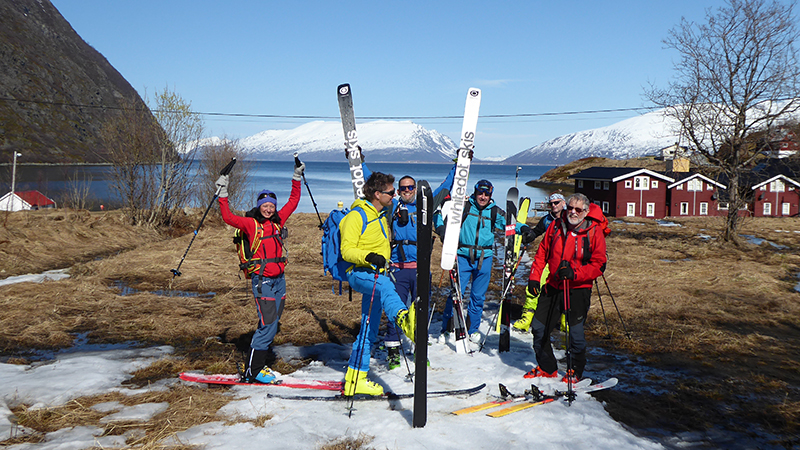 Tomaž Jakofčič
I was born 1970 in Germany to parents, which were "Gastarbeiter". There I also spent my first 5 years, after that we returned to Ljubljana, where I still live with my family till this day. My parents were never really into mountain climbing, and I really can't explain where I got my strong wish for "conquering the useless parts of the world". Till the end of middle school it wasn't so bad, because I wouldn't live out my obsession to the fullest yet. I was constantly daydreaming and this was also the reason I had worse grades, than I could have had, but I managed. I also briefly visited university, if I let out the fact that I got my diploma with almost gray hair. After a few years of teaching in primary school, I finally managed to gather my courage and cut the cord, which bind me to my regular job and I became a "full time climber" and mountain guide.
You may also be interested in: