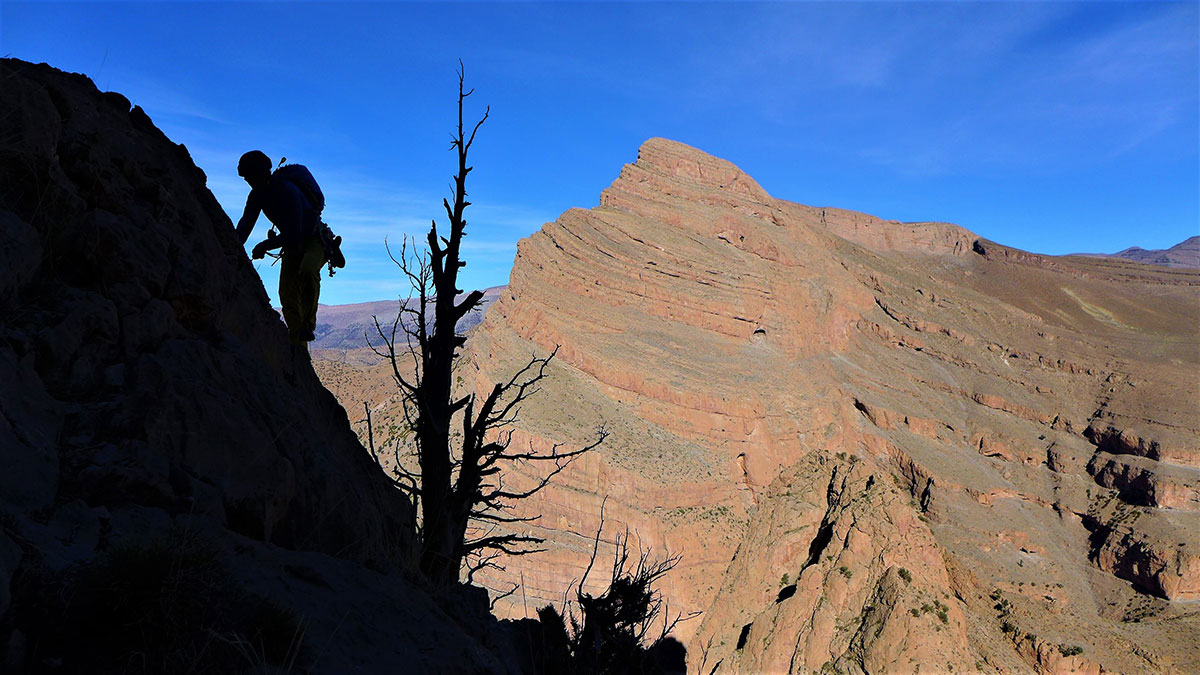 Tomaž Jakofčič, 2. 2. 2018
Taghia in the heart of the high Atlas
I travel to many places, but I rarely go somewhere far away for myself to climb in peace. And it was about time to make such a journey. The walls of Morocco were staring at me from afar for a very, very long time. So this year's autumn trip (as the married colleagues also call "climbing with boys" with the word boys as the center meaning) was to Morocco, to the famous Taghia. I have to admit: because of my "golf" elbows I wasn't really looking forward to this trip and I didn't organize anything specific in the last few months before the trip. And to make things worse, I was really hoping that "something would get in the way" and I kept my fingers crossed that the whole thing would just fall apparat. But my friend Grega Lačen didn't share the same pessimistic outlook as I did regarding my problems. "Then you will walk behind me, old man" and he laughed at me. It couldn't be any worse. I didn't really climb that bad with my elbows, because I didn't have any pain whilst climbing. But just before starting a climb, I would get a burning pain in my elbows and therefore I had to climb easier routes than I am used to. Really uncomfortable problems, which most sportsmen and women encounter at least once in their alpine careers (and maybe even some pro golfers). Even the airport crew of Air Berlin, where we had out tickets booked, helped me in my pessimistic endeavor and went bankrupt just a few days before my trip. But it all didn't help, we still went…!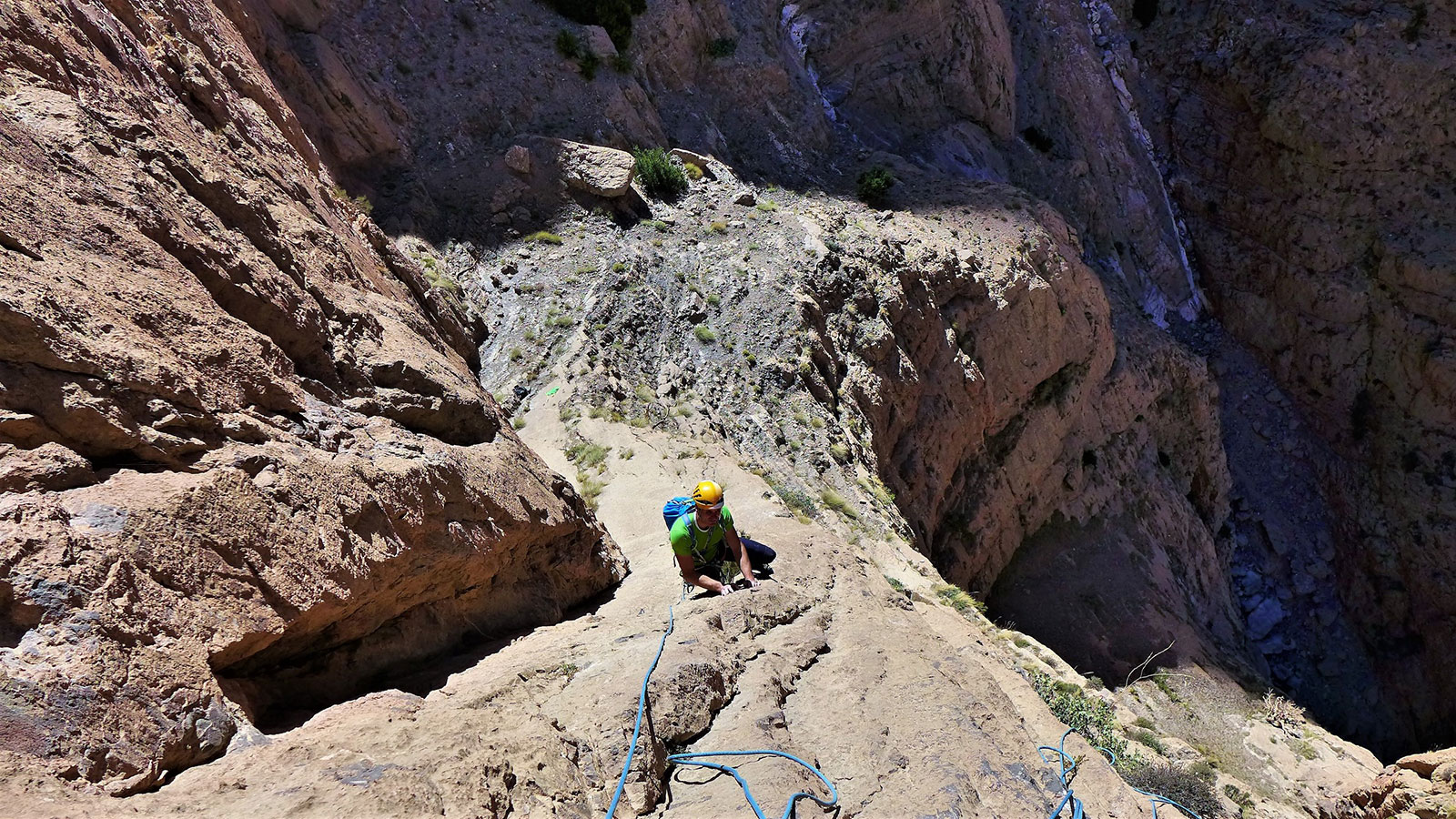 The morning flight to Marrakesh, 5 hours in a taxi and a 2-hour long walk to the village Taghia by the river and canyon with the same name later, and we were in the middle of the high Atlas and that was the start of my journey. This part was the most sought after part of the world in the last 40 years for all serious alpinists and pro-sportsmen in the climbing discipline. Some of their routes, thanks to the top-class limestones which make up the mountainsides, can be considered one of the best for long sports climbing. It all went smooth and short, and my crossed fingers didn't help at all. After the first route, a bit better, and even easier (because the famous guru of alpinism Michel Piola made that route himself, of course), in which my elbows didn't fall off and didn't' get worse; I soon started to get into my climbing "mode", in my far-off place in my head, where only the goal of where to climb next matters, what I will eat and how the weather conditions will be too. The cancelation topic for that day was also canceled, because of the beautiful weather forecast we had. So I had to concentrate on the good weather in front of me and continue my climbing. I can only speak for myself, but Grega brought so much communication devices with him, that he could very well be in the middle of his office after the end of the first day. These kinds of embarks are a true balsam for the climber's soul. I do miss my family, but all in all these journeys give me a positive feeling for my manly heart (maybe also for the female heart, I don't know exactly…); it is a similar feeling that the English institutions observed (what else), where they speak about the positive effects of male bonding in pubs at least once a week. And this kind of action is even more beneficial for the heart, because it causes less risks of disease and depression in males. I am sure that this kind of freedom keeps any kind of relationship together. I can remember seeing these kinds of benefits with my own 2 eyes, after every climbing trip I made away from my loved ones, but because of my constant work and for the sake of my children, I had to stop going on too long and far-away journeys.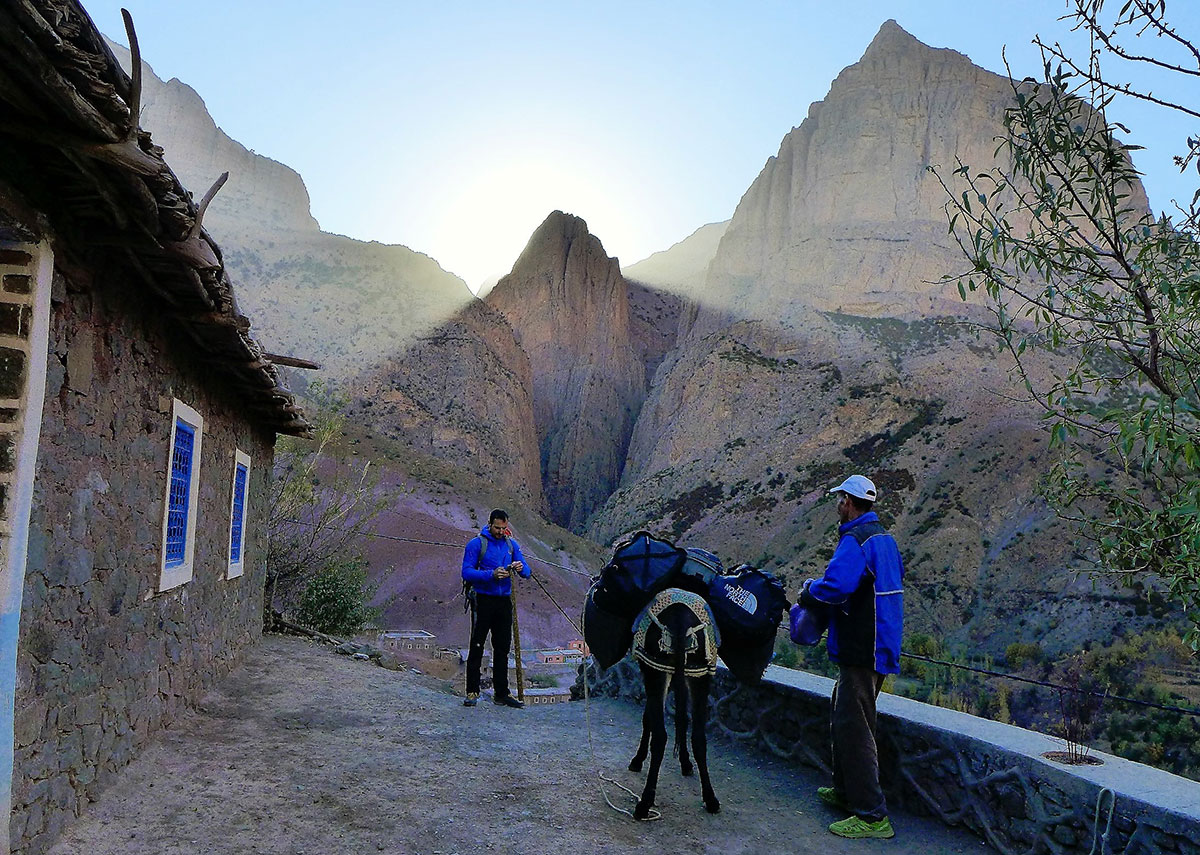 Well, this Morocco was more or less a short trip, which kind of reminded me of an adventure, because of the people themselves, their different religions, and a chance of food poisoning… We climbed 4 different routes; the last one was quite dignifying and a real classic: the Baraka route, a 670 m high one at that. This last one specifically enflamed our two climbing soul so that even my elbows got better. And those crossed fingers, which I held onto so dearly before my departure, started to wear off as well. The Barber family where we stayed at and which gave us breakfasts and dinners, had a whole truck load of children, from who the youngest ones had long snot drops hanging from their noses. They were coughing and sneezing all the time, from dawn till dusk. We didn't really give much thought about it, until the father came to us one night in search for a headache drug himself, saying he had really severe pain in his head and joints. If you hear this from the water or the cook specifically, then things start to move on a different level. And in 2 days we fell ill ourselves and laid for some days on the filthy mattresses ourselves.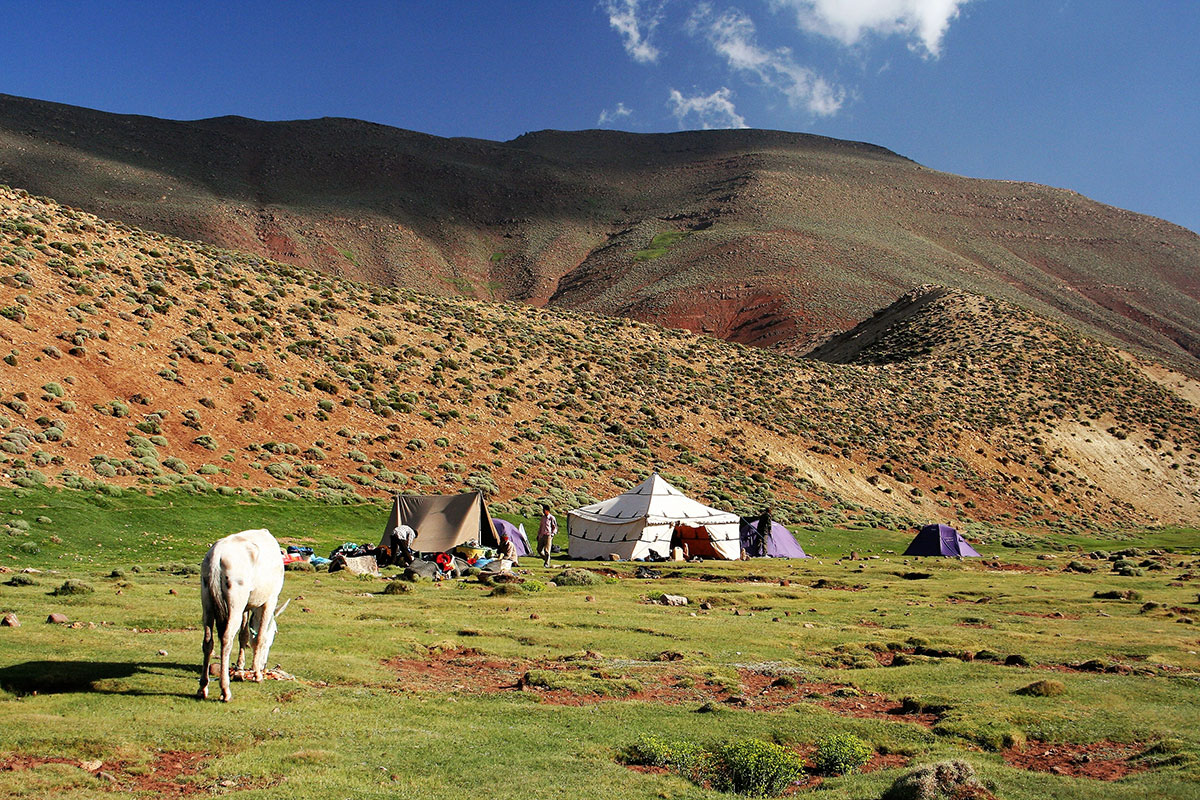 I did visit Morocco 2007 before, when I lead an English group to the highest mountains in Atlas, Mgoun (4071 m) and Toubkal (4167 m), in a 2-week long trekking trip, sleeping exclusively in tents and therefore is was a real trip to let ones soul loose.
And even then I saw a different side of the mountains, even Marrakesh was etched into my soul in a different way, as a very pleasant and a beautiful city. Now, 10 years later, the excitement still stays. The city is still beautiful, even the marketplace Jema Al Fna hasn't changed one bit, everything was the same, lively and pleasant, the most at nighttime. Even though I don't like to run around the tourist sites and all that, I still like to explore the country in its rural areas and see the inhabitants in their daily lives. But you can't help but to feel a certain urge of tourist activities at some times. And so my friend made a plan what we needed to see in 1 day during out stay in Marrakesh and my ignorance for not wanting to participate in these, was said to be pure narrow-mindedness. Luckily his urge to go through that list lasted only till the first line of a tourist destination, where we got stuck between 2 busses full of retired Germans.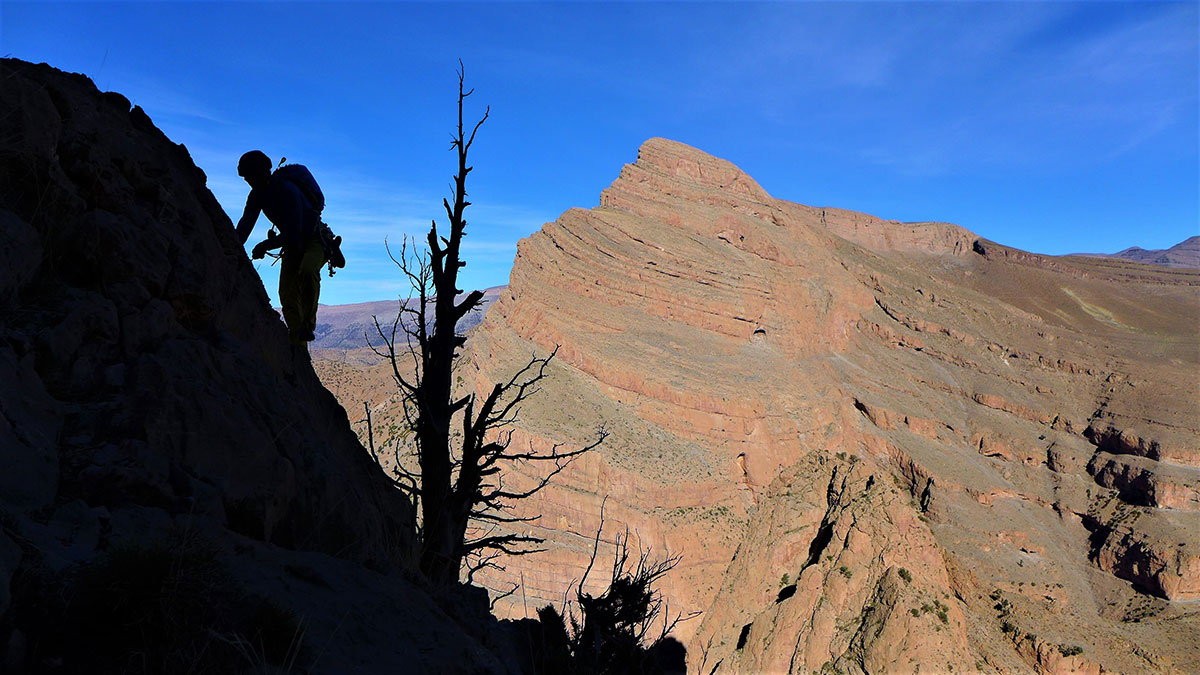 Grega and I understand each other very well. His occasional bossy outbursts here and there did get on my verves a bit, but in generally we lived out our 20-year long friendship very well, everywhere we went to climb by ourselves or with our families. On the way back home, he got a really big grouchy tantrum. The taxi driver, who drove us to the airport, was travelling himself, a real vagabond. He, very aggressively, stated that we should pay more than we agreed on. I had a note of 20 Dharma in my hands, and whatever more money he wanted, I think it was 2 Euro or something, I gave to him, because I just didn't have the energy to argue with him so early in the morning. And what a catastrophe for the master of jiujutsu at my side that was. My friend stated to argue, and make the life of the taxi driver as miserable as he could… he had a really bad day.  And some moments later I was really singing with content, silently laughing to myself, as he was asked to step back and go through the check-in point  again, arguing with the officials there, stating » I am coming to Morocco every year, for ten years (liar…!), always with a rope in my handbag«.
Even Zaplotnik said: "There is nothing better to see, than a friend in a real predicament".

Tomaž Jakofčič
I was born 1970 in Germany to parents, which were "Gastarbeiter". There I also spent my first 5 years, after that we returned to Ljubljana, where I still live with my family till this day. My parents were never really into mountain climbing, and I really can't explain where I got my strong wish for "conquering the useless parts of the world". Till the end of middle school it wasn't so bad, because I wouldn't live out my obsession to the fullest yet. I was constantly daydreaming and this was also the reason I had worse grades, than I could have had, but I managed. I also briefly visited university, if I let out the fact that I got my diploma with almost gray hair. After a few years of teaching in primary school, I finally managed to gather my courage and cut the cord, which bind me to my regular job and I became a "full time climber" and mountain guide.
You may also be interested in: